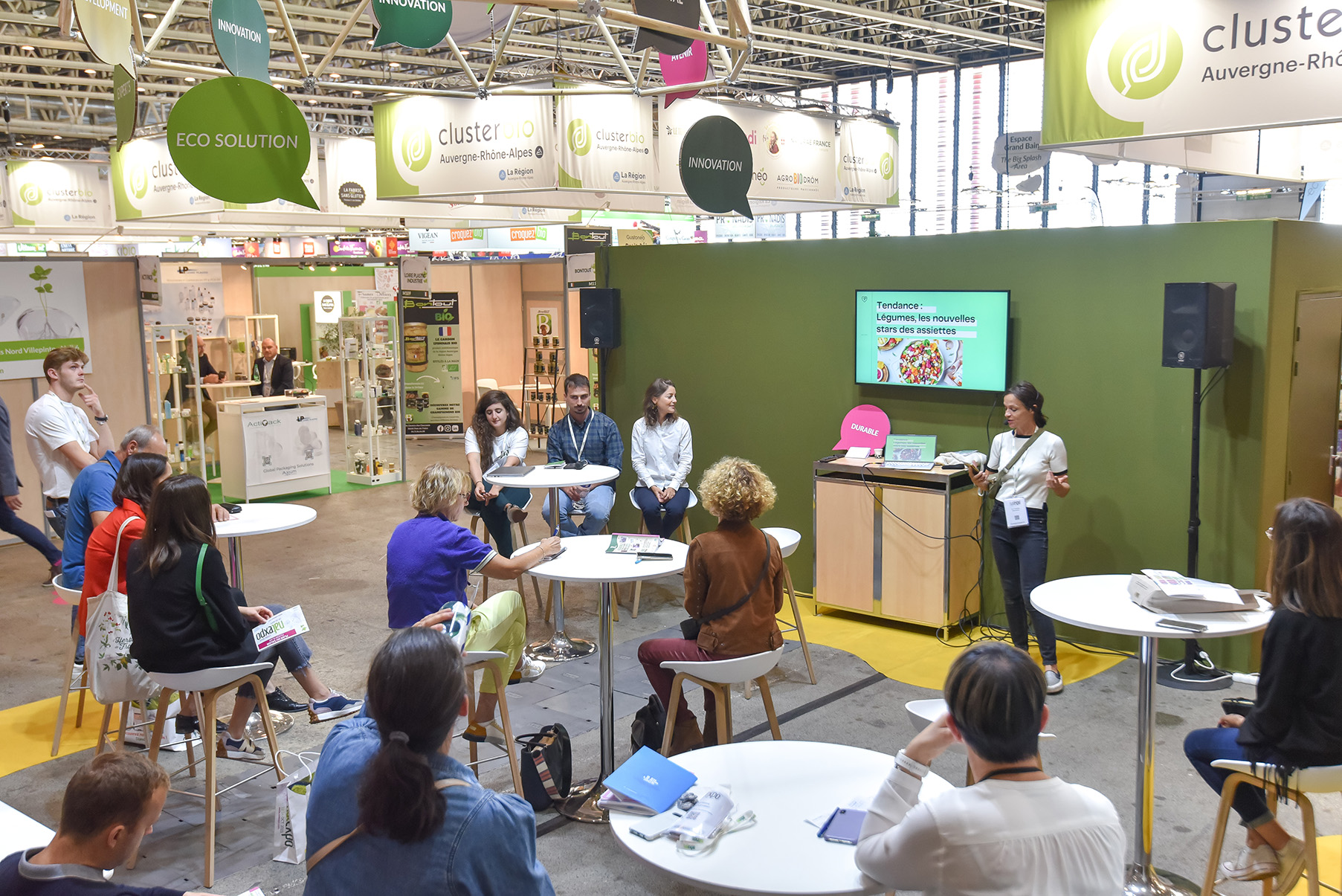 Placed at the centre of the show, the Agora is a space which offers a platform to experts who will give an update on the latest organic news. How to anticipate the challenges of tomorrow? The Agora will provide food for thought throughout the 3 days of the show, with a double program focused on international and innovation.
International mornings
In the morning, the Agora offers a cycle of conferences focuses on import/export, allowing international issues to be addressed and as well as an inventory of local organic markets.
Innovation afternoons
In the afternoon, the Agora gives way to round tables and conferences all based on innovation: e-commerce, consumer trends, regulatory changes, fair trade, ethical finance, reuse, local, bulk…
Conferences programme
SUNDAY 22 OCTOBER 2023
11.00am 🇬🇧 The potential of Trentino Organic in the French market
With Emanuele di Faustino et Silvia Zucconi (Nomisma), Renata Diazzi et Daniela Pedrotti (Trentino Sviluppo)
12.00pm 🇬🇧 ECOVALIA's Anual Report 2023 : Organic Production and consumption in Spain
With Évelyne Alcázar Marín (ECOVALIA)
1.00pm 🇬🇧 The future of cosmetics : sustainable solutions of a changing word 
With Paula Gómez (NATRUE), Camille Ott (Weleda France) and Valérie Barbier (Mishki Peru)
2.00pm Eco-labels : Meaning, benefits and sales impacts
With Adriano Farano (Pane Vivo) and Joséphine Bournonville (OMIE)
3.00pm Behind-counter service: a key section to offer diversity in store and reduce packaging? 
With Sylvain Lambin (ORGANIC ALLIANCE)
4.00pm Conference on fair trade and responsible purchasing
With ECOCERT
5.00pm Report on food trends 2025
With Virginie Lorenzato and Laure Malherbe, GROUPE CARAMEL
MONDAY 23 OCTOBER 2023
10:00am From production to valorisation of organic farming
With Marwa Bouaziz (APIA/ADF)
11.00am Wallonie-Bruxelles : organic production and consumption trends for successful import-export 
With Ariane Beaudelot (Biowallonie with the collaboration of AWEX)
12.00pm 🇬🇧 The success of the Danish organic model through the example of the plant based trend?
With Anders Nicolajsen (Danish Agriculture & Food Council)
1.00pm 🇬🇧 Irland's Organic Ambition 
With Senator Pippa Hackett (Minister at the Irish Department of Agriculture responsible for Biodiversity and Land Use) 
2.00pm Reuse, reduction and recycling vs product properties and characteristics.
With Antoine Covillers ((RE)SET), Maud Craplet (LEKO ORGANISME), Clémence Hugot (FRANCE CONSIGNE), Hugues Pelletier (PETREL), Alexis Dusanter (BOCOLOCO)
3.00pm Fair trade and its levers to guarantee sustainable supplies: focus on the cocoa supply chain. 
With Lucile Chevalier (MAX HAVELAAR), Antoine Gonnet-Miranda (SPP FRANCE) and Yannick Chambon (SOLIDAR'MONDE), animated by Emilie Durochat (Commerce Équitable France)
4.00pm Organic brands: dare or perish. The keys to becoming a pioneer again. 
With Alexis Canto and Nicolas Neau (PIXELIS)
5.00pm Trends and issues in collective catering
With Lise Pujos (ECOCERT)
TUESDAY 24 OCTOBER 2023
10.00am New regulations : Implementation of operator groups in Europe
With Antoine Faure (ECOCERT)
11.00am Mutual recognition agreement between Chile and the EU concerning Chilean exports of organic products to the EU: legal context and commercial offer
With Marcela Godoy-Cortes (ProChile) and Patricia Cuba-Sichler (PCS LATAM Avocat)
12.00pm 🇬🇧 Driving Authenticity in Sustainability: Addressing Misleading Labels and Fostering Collaborative Initiatives for the Organic Sector
With Joanna Wierzbicka (IFOAM Organics Europe)
1.00pm New regulations: Application of the principle of compliance in third countries
With Antoine Faure (ECOCERT)
2.00pm State of play in consumer expectations in terms of Nutrition-Health and regulations on most common claims 
With Laetitia Ranchon, Nutrition Expert
3.00pm Solidarity finance, a relevant strategy for the development of organic businesses
With Fanny Naville (1% for the Planet) and Julien Le Couturier (La Nef)
4.00pm Dematerialisation and the impact of digital technology
With Enzo Schwander (QUIPO)
Rediscover the 2022 schedule of the Agora
Rediscover the 2022 schedule of the Innovation Forum