The Global organic market 
In 2019, the global organic market reached 106 billion euros. France is the fastest growing market with a 10,4% rise registered compared to 2019. The French market is now on the podium with a 13.2 billion worth organic market in 2020, behind Germany and the United States.
Source: Agence BIO

Source : FiBL-IFOAM
At European level, France remains one of the best students in organic
According to the Barometer of the perception and consumption of organic products published in March 2022, 9 out of 10 French people consume organic (91%). Despite a slight drop in new consumers of products with only 11% of newcomers (-4 points compared to 2020), the study shows an increase in the number of French people who consume organic products more regularly (at least once a month (76 % vs. 73% in 2020); at least once a week (52% vs. 47%)).
Top claims for habits modifications: 
Local sourcing 59% 
Fresher products 57%
More seasonal products 57%
Less waste 56%
Cooks more 55%
After very strong growth in the organic markets of European countries in 2020, growth seems to have slowed down in 2021:
Evolution of the 10 main organic markets in Europe (in billion €)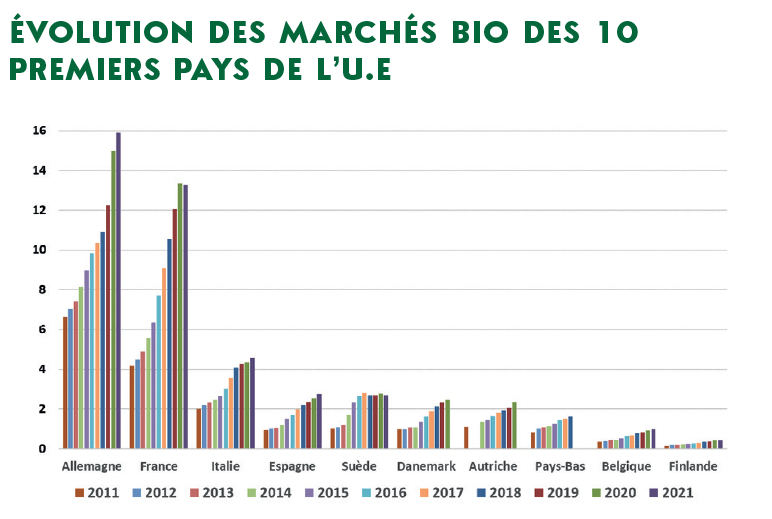 Source: Agence Bio
Food
In 2020 in France, the consumption of organic products weighs 13.3 billion euros.
Breakdown of household purchases:
(In %, by family of organic products in 2020)
Grocery: 31%
Fresh fruits and vegetables: 16%
Dairy: 15%
Alcoholic beverages: 10%
Meat: 9%
Bakery: 8%
Sea, caterer, frozen: 7%
Soft drinks: 4%
Source: Agence BIO/AND International 2021
Organic cosmetics
The demand for more environmentally friendly beauty and hygiene products is increasingly important in consumer purchasing decisions. Between 2016 and 2024 the value of the global natural and organic beauty products market is expected to almost double. In France, this trend is also strongly on the rise, with a market representing 251 million euros in 2021, an increase of more than 85% compared to 2012.
Source: Statista.com
> Find more information about the organic cosmetics market
Dietary supplements
The dietary supplements market amounted to 100 billion euros in 2019, up 6% on 2018. Europe is following the trend with a market estimated at 12,6 billion euros in 2019, a 5% growth compared to 2018. Leading the market are Italy and Germany, before France at the third place. 
The segments that perform the best are: digestion, stress / sleep, vitality and immunity.
> Find more information about the dietary supplements market
Library: 
To provide an adequate response to cater to this demand which is growing fast, Natexpo offers a trade show strictly open to professionals from the organic, eco-friendly and dietary supplement sector, helping to promote the growth of your company's sales in Europe and throughout the world.