Vegetarian food is now a permanent fixture in all retail sections. This segment is witnessing a growth in products based on enjoyment and indulgence: vegetarian puddings and cakes, alternative burgers and meat, etc. These new modes of consumption are drawing an ever larger audience and acting as a magnet for innovation and reinvention.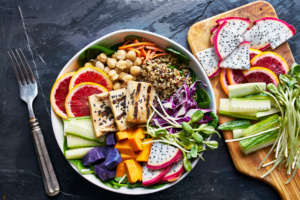 Younger generations appear increasingly sensitive to environmental issues, animal welfare and health benefits: the leading reasons behind the switch to a vegan diet.
Natexpo has introduced the Vegan trail to help visitors spot exhibitors offering all-vegetarian products: come and meet them!
The exhibitors and talks list relative to this trail will be available a few weeks before the show. Stay tuned!
→ Go back to the Thematic Trails list