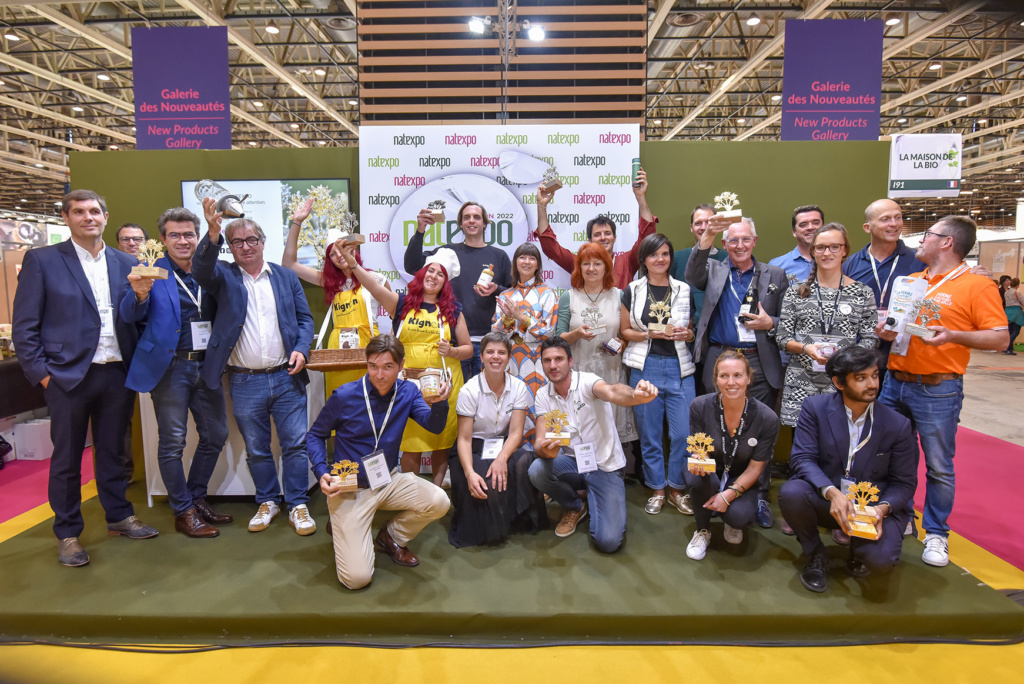 The Natexpo Awards 2023 prize-giving ceremony will be held on Sunday 22 October at 4 pm, on La Maison de la Bio/Natexbio's booth (K38).
Created in 2005, the Natexpo Awards single out the most innovative, useful, practical and original products launched on the market during the year in 8 categories:
Sweet grocery products
Savory grocery products
Fresh products
Beverages
Dietary supplements
Cosmetics and hygiene products
ECO Products / ECO Services
Equipment for retail
Ingredients and Raw Materials – new in 2023
Seeds – new in 2023
An International Special Mention will also be granted by the jury to an innovation presented by a Natexpo foreign exhibitor.
The judges assess the products on the criteria of innovation, consumer benefits and their main performances. All the products are tasted or tried out by the judges.
Natexpo Awards 2023: major novelties!
Organic is constantly evolving, and so are the Natexpo Awards!
Here's what's new this year:
Two new categories have been added to the list: Ingredients and Raw Materials, to highlight suppliers of food and cosmetic ingredients previously included in the destination categories, and Seeds to reward small innovative structures*
For the first time this year, only one Natexpo Award will be granted per category: the Gold Award, as well as the International Special Mention. 11 Natexpo Awards will be granted in 2023!
*Applications for the "Seeds" category is only open to organisations with an annual turnover for 2021 of 500 000 € (excl. VAT) maximum. Please enclose proof of company registration with your application as well as a proof of CA 2021. The registration cannot be submitted in the absence of these documents. For more information on the eligibility criteria, see the general regulations.
Natexpo Awards 2023: the jury!
Silène Levoir-Levillain – Circular Economy Project Manager, INEC
Laure Jeandemange – Journalist, Les Nouvelles Esthétiques
Emna Everard – Founder, Kazidomi
Vic+green – Content Creator
Antoine Lemaire – Editor-in-Chief, Bio Linéaires
Gaëlle Frémont – Founder, Ingrébio
Sylvain Zaffaroni – Founder, Pour nourrir demain
Olivier Costil – Editor-in-Chief, Le Monde du Bio Gourmet
Pauline Wespieser – Buyer / Category Manager Grocery/Salty Foods/Wines/Beers, Naturalia
François Deschamps – Founder, Plan B(io)
Alice Lauriot dit Prevost – Co-founder, Tudigo