All the major decision makers and purchasers from specialist retail, mass retail and foodservice attend Natexpo.
With 14,800 visitors welcomed in 2017, Natexpo is the key point of convergence for distributors, retailers, foodservice firms and food artisans who will be able to find an exhaustive product offering and all the latest innovations for their consumer and user customers.
Buyers from specialist shops and retail brands, from mass retail, collective catering, food artisans, pharmacies and drugstores, purchasing specifiers, etc.
3 days to meet all the main decision makers in specialist retail, mass retail and out-of-home foodservice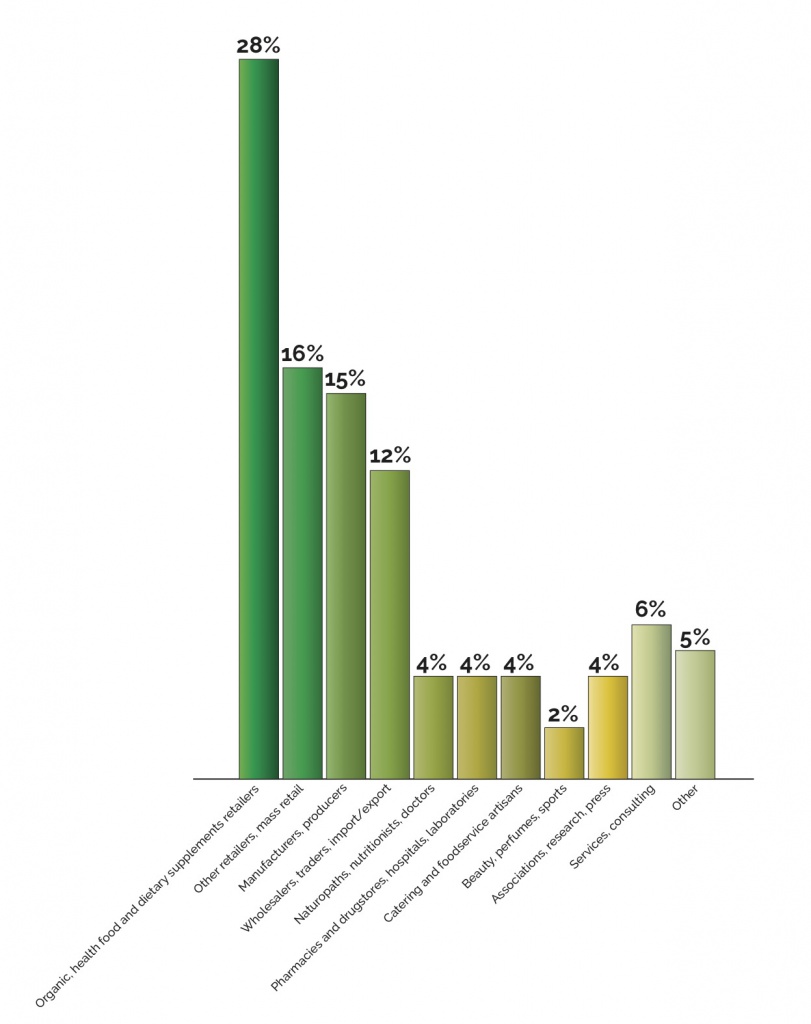 A specialist trade show
85% of visitors are satisfied with the diversity of products on show
80% of visitors are satisfied with new products presented.
An efficient commercial network
94% of visitors met their goal of meeting new suppliers
A record satisfaction rate!
93% of visitors were satisfied with the 2015 show
Natexpo gives a boost to Organic foodservice:
Prestigious award-winning chefs, Meilleurs Ouvriers de France and all the main opinion leaders in the gourmet food segment have teamed up behind the Organic Cookery Workshop and the Bio & Food Lab' to raise awareness among their peers and all visitors about organic products. The association So'MOF, capitalising on the expertise of Meilleurs Ouvriers de France, along with the main trade association in each profession, have all pledged their support.
THE SHOW'S STRENGTHS ACCORDING TO VISITORS
"This show has continued to keep its promises from its very beginnings: show the market new products and be stringent in terms of exhibitor quality in the area of health food, nutrition, fitness and well-being."
CABINET FLERIN, NATUROPATH
"Simply unmissable"
BIOCOOP VITAVIE
"Great exhibition, very broad range"
PHARMACIE DU RER
"The pleasure of meeting up with our suppliers, the motivation to raise our standards even higher and improve our shop in order to satisfy a clientele which is increasingly well informed and thirsty for knowledge, and finally the need to do a bit of self-analysis to keep advancing in a profession which is changing fast."
ST-JEAN NATURE
"For an organic retailer like us, it is an essential show with a friendly atmosphere, where we all meet up with our colleagues."
LE MARCHE BIO
"Very well organised: the team did everything they could to help the visitors. The exhibitors at the show encompassed lot of different sectors of activity (foods, well-being, cosmetics, cleaning, clothes and more besides). See you next time!
VIVALDI

"Natexpo is definitely the one and only organic trade show in France that you can't afford to miss!"
LES TRÉSORS DE LA NATURE