"Zero waste" emerged in the 1980s in California with the idea of consuming more smartly to eradicate nearly all our waste. Today, zero waste is one of the most efficient ways of protecting the environment. It can be applied on a range of levels, in particular in how we choose to consume products.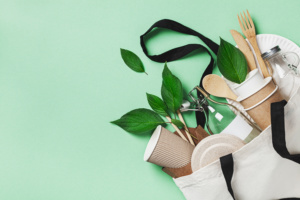 Offering money and time savings: shopping with your own jars or making your own cleaning products are the new reflexes becoming established in households today. Packaging-free, meanwhile, begins with shopping in stores offering products in bulk or loose. And this is where producers and manufacturers have a role to play. 
The zero waste trail will help you discover the latest packaging free product innovations or manufacturers involved in bulk and zero waste retail.
Discover the programme of the related conferences:
Sunday 18th September 2022
1:30pm Reducing and improving packaging: eco-packaging solutions for loose goods and deposit return retail
With ADY-PACK, SEALESTER, SAKWA, MAYAM, SMART VRAC and MA BOUTEILLE S'APPELLE REVIENS
The Lab
2:00pm The indirect benefits of buying loose
With Célia Rennesson and Chloé Liard RÉSEAU VRAC
Organic Trends Forum
4:00pm Anti-waste solutions for shops and food service
With FOOD4ALL and STOCKELP
The Lab
Monday 19th September 2022
10:00am Alternative consumption (loose products, plants, etc.): performances and figures in France depending on the networks
With Pauline Peyron, NIELSENIQ
Agora
10:00am Eco-products and eco-responsible solutions in everyday use
With FILTRABIO, TOMO UPCYCLING, MAIA-KO, CEERCLE and BAMBOO STEP
The Lab
11:00am Loose products: land of innovation
With Célia Rennesson and Chloé Liard, RÉSEAU VRAC
Organic Trends Forum
11:30am Eco-innovative ingredients and foodstuffs
With CIRCUL'EGG, IN EXTREMIS, LIVQ, TERRE DE SENS, MALTIVOR and YEASTY
The Lab
12:00pm How to make a successful solid cosmetics product?       
With ENDRO
Cosmetic Innovations Forum
1:00pm Re-using containers: advantages, difficulties and solutions for the various actors in the sector
With Clémence Richeux, MA BOUTEILLE S'APPELLE REVIENS, Hélène Person, COOPERATIVE BIOCOOP, Didier Loffreda, IMPRIMERIE LORGE, Alexandra Parfus, MAISON RAVOIRE and Marc Millet, AVERY DENNISON
Agora
1:00pm Organic and solid products for babies!
With LAMAZUNA
Cosmetic Innovations Forum
2:00pm Zero waste eco-products: personal hygiene, cosmetics and detergents
With MAISON HADENN, SOLIDE, LAO, MAIA, LE PETIT ROSEAU, DANIKA, CHERI LOUVE and HELLO DURABLE
The Lab
2:00pm Beauty and circular economy: the feasible equation
With COZIE
Cosmetic Innovations Forum
4:00pm The challenges of the organic sector (and sustainable food) in relation to the right packaging
With Laurie Gouin, TEAM CREATIF
Innovation Forum
5:00pm Sustainability and compostable packaging: how to meet your targets
With Jean Pierre Rakoutz, TIPA
Agora
Tuesday 20th September 2022
10:30am Differences between natural organic solid cosmetics and synthetic solid cosmetics         
With GAIIA
Cosmetic Innovations Forum
11:00am Food waste in the production chain  
With Guillaume Tricaud, TOO GOOD TO GO
Agora 
12:00pm Solid in all its states!          
With LABORATOIRE GRAVIER
Cosmetic Innovations Forum
1:00pm Reuse in cosmetics
With MBSR and COSMEBIO
Cosmetic Innovations Forum
1:30pm The indirect benefits of buying loose
With Célia Rennesson and Chloé Liard RÉSEAU VRAC
Organic Trends Forum
3:00pm Plant powders, the DNA of Powder hair care products        
With POWDER
Cosmetic Innovations Forum
3:00pm Loose products retrospective and forecast: update on a still promising market
With Célia Rennesson, RÉSEAU VRAC and Jean-Maurice Gabory, 3J DÉVELOPPEMENT
Agora
→ Go back to the Thematic Trails list