An alliance of wellness and good taste
As a premium meeting place for exchanges, new discoveries and insight, Natexpo once again this year illustrated the sector's powerful dynamism by bringing together 7,965 organic professionals over the two days of the show.
This exceptional edition rose to the challenge of masterminding the reunion of the organic market, in which nearly 200 companies chose to make their exhibition debut.
Natexpo benefits from the continued support of an organic market that is in spectacular form, amplified by the public health crisis. Acknowledged by loyal exhibitors, the show is a genuine springboard for young companies launching their activity who are targeting rapid growth.
From leading and well-established organic firms to loyal exhibitors and new market entrants, all these participants presented an array of new products this year, offering a glimpse of tomorrow's world.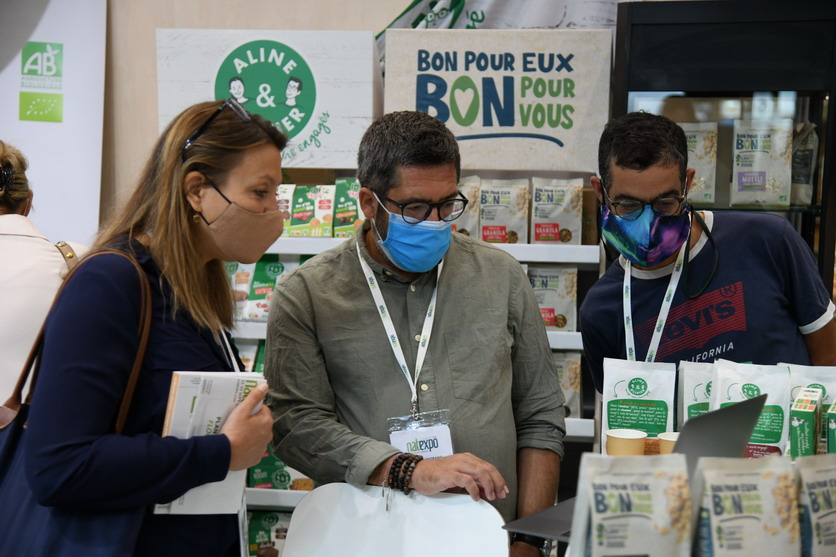 Healthy eating is one of the leading themes for these market newcomers. New consumer habits are spurring entrepreneurs into using their imagination to attract new buyers. And the method is paying off: in 2019, more than 9 out of 10 French people consumed organic products at least occasionally, and 14% every day! [1]
Beyond their higher nutritional value compared to a conventional diet, organic food, combined with a healthy lifestyle, also guarantees better health. [2]
89% of French consumers plan to increase their consumption of organic products. So to meet this constantly growing demand, manufacturers try to stand out from the crowd with striking concepts, eye-catching packaging and gourmet delicacies: there's still a lot of new stuff to come in the organic food section!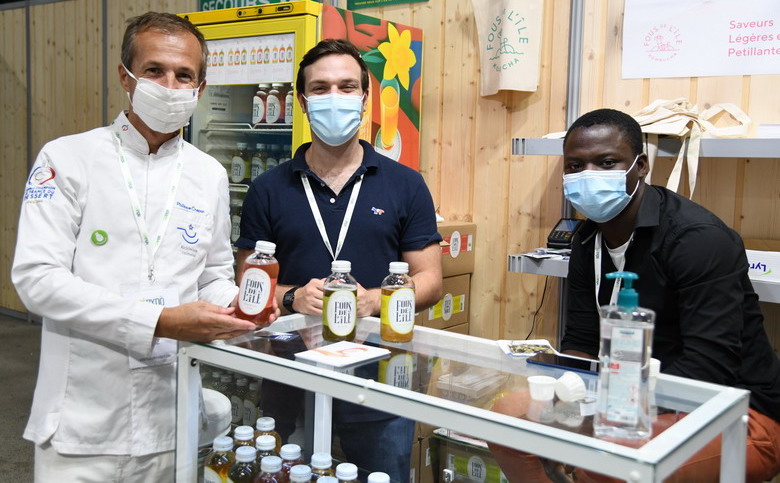 As part of this trend, the Dutch firm No Sugar Daddies offers refined sugar-free gourmet spreads. The Paris company Les Fous De L'île concocts kombucha, a fermented tea-based drink with delicate and original flavours. Healthy drinks are also the credo of Suncal Organics who offer ginger beers and maté so that you can raise a glass with friends without feeling guilty. A new generation aperitif is also possible with the fermented non-alcoholic fruit kefir-based drinks from La Brasserie Parallèle. Another newcomer is the Symbiose kefir, which is organic and unfiltered for a "home-made" effect. Deliscus works with local producers in Senegal to make and market its hibiscus drinks. With its individual formats, Nemeco offers a range of all-organic drinks including smoothies, mineral water and fruit juice infusions.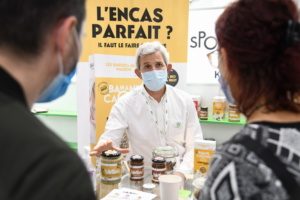 On the breakfast table, Cosmos Energy offers a condensed shot of vitality in a tangy superfood-based drink: 4 hours of energy guaranteed! To complete breakfast, we turn to the artisan granolas from La Main dans le Bol, cereals and porridges from Nümorning, sweet and savoury granolas from Positive Healthy Foods and veggie and gluten-free pastries and bakery products from Kom&Sal. In a more traditional vein, La Boulangère offers a range of all-organic pastries. And with your breakfast, why not have a roasted green coffee from KafeNaka, with its precious detox virtues? More a fan of capsule coffee? No need to feel guilty anymore about its ecological footprint thanks to the solution proposed by Kabioca, an eco-friendly organic coffee in a compostable capsule. Feel like some fruit? Get your fill with Whooley smoothies. Also discover the wide range of Demeter certified organic fruit and vegetable juices from the German company Voelkel.
For professionals, Baronny's offers ranges of cereals, teas and infusions for their customers' breakfasts.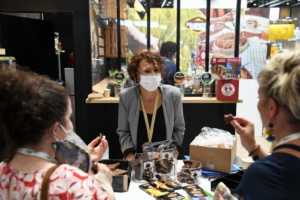 Tasty and healthy, Joolies dates are the ideal snack for when you're feeling peckish. You can also opt for the soft fruit offered by Fruit Gourmet, or the exotic dried fruit from Ressources Bio. Feel like chocolate? Maison Bonange offers you all sizes of quality organic bars, and can even make them to order!
Delicious and offbeat, discover without delay What the French ice creams that reinvent the classics. Avoid any sugar lows with Sport'nBio's gourmet products and their mix to make them yourself. La Bonne Energie offers "good energy" and subtly blended tastes in its energy bars, superfoods and fruit juices made for sportsmen and women, made by traditional methods. Balarama, a manufacturer of organic bars, formulates tailor-made bars for the slimming, sports and baby food sectors. If you hesitate between sweet or savoury, the original Mad Lab cracker ranges will delight all taste buds.
Discover the full list of the first-time 2020 exhibitors
[1] Source: Agence Bio and AFP.
[2] Association between organic food consumption and metabolic syndrome: cross-sectional results of the NutriNet-Santé study