Ever since its creation, the association Cosmebio has enjoyed continuous growth: Cosmebio currently brings together 60% of the organic cosmetics on the French organic market, represented by nearly 500 members. Once again this year, Cosmebio reasserts its position as a reference label that consumers and professionals can rely on!
More consumers than ever
In 2020, 50% of French people said they used organic cosmetics, compared with only 31% in 2016. This attraction to organic and natural cosmetics is primarily in evidence among women (61%) although male consumers are no strangers to the movement (+22% between 2016 and 2020).
This increase is no surprise given the diversity of the range and the proven results of the products on offer. Today, consumers can quite easily find a product on organic cosmetics shelves that fulfils their needs.

A sector attracting new consumers
While some consumers are followers from the earliest days, others have only recently discovered organic cosmetics. 78% of consumers of organic cosmetics made their first purchase less than 5 years ago.
This can be explained by the steps take to introduce organic cosmetics to a wider audience, as they can now be found in both specialist retail channels and mass retail.
But as the saying goes: "try it, adopt it" – and 93% of organic cosmetics consumers express the wish to maintain or increase their consumption.
Organic cosmetics: a substantiated choice
Entirely in step with current environmental concerns, organic cosmetics offers the chance to combine pleasure with ethics. With their innovative products, organic cosmetics guarantee results without having to compromise on principles.
Organic cosmetics offer a more straightforward composition and a shorter ingredient list, allowing shoppers to stay in step with their values.
And if the Cosmebio label is a reference, this is mainly due to its strong commitments.
To guarantee a truly organic product, Cosmebio requires that it be certified by an independent auditor in accordance with COSMOS guidelines.
Visit the Cosmetics Innovations Forum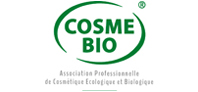 In partnership with Cosmebio, the trade association for eco-friendly and organic cosmetics, Natexpo annually organises an area entirely devoted to beauty and wellness: the Cosmetics Innovations Forum.
Here, you will be able to attend talks on the latest market statistics and meet a great many companies bearing the Cosmebio label.
Article written by the Cosmebio team