Consumer habits have been largely impacted by the pandemic.
The health & beauty market is no exception, with a 22.4% drop due to the first lockdown compared with 2019 and a 2.6% drop for the second lockdown, all distribution channels combined[1].
Specialised channels had to close, leading to a drop for this sector. At the same time, consumers were seen returning to basics, abandoning high added-value products such as make-up and fragrances. Soaps, however, sold extremely well due to the situation.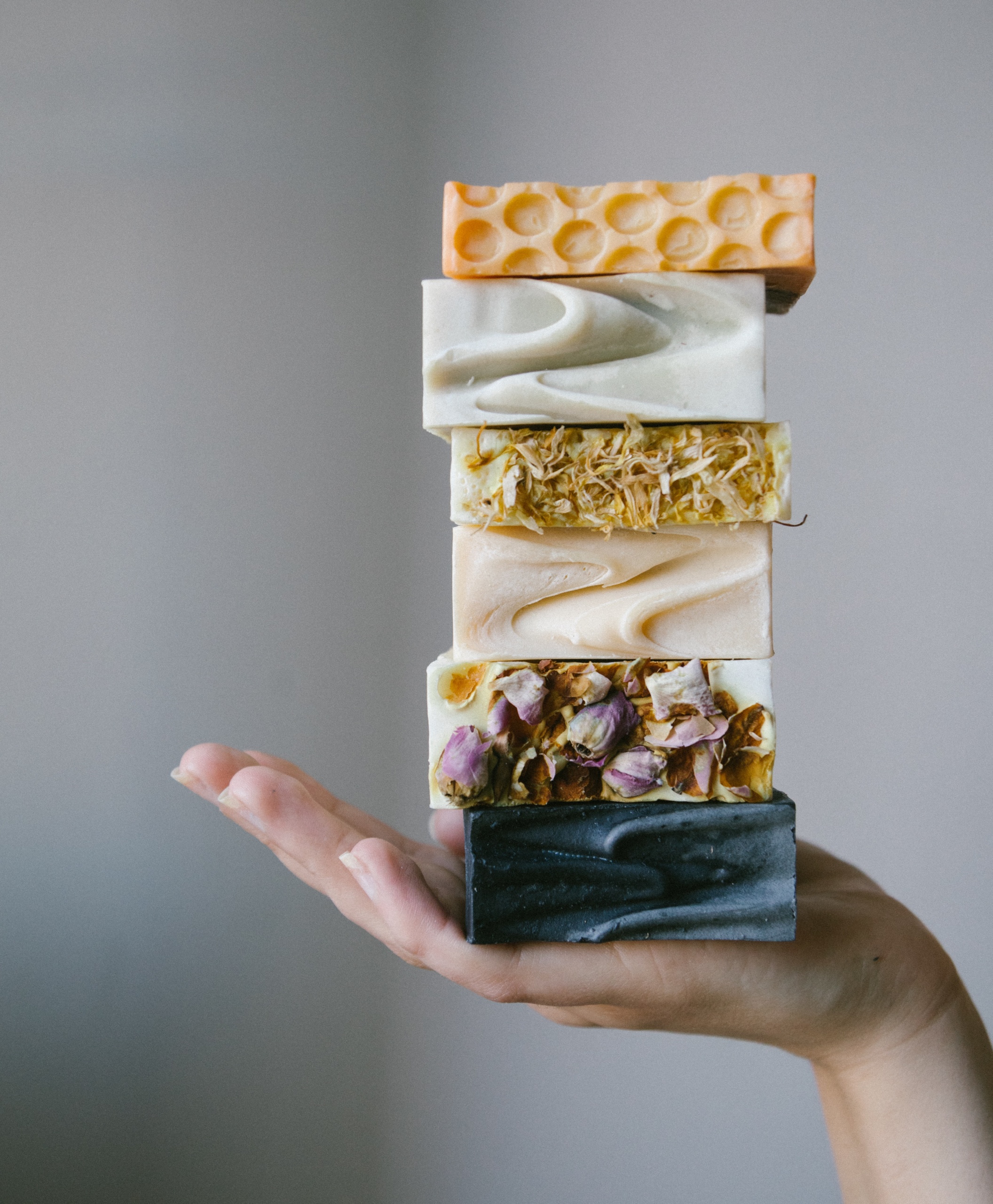 The health & beauty market also declined in specialised organic networks in 2021 compared with the previous year. 
Nevertheless, the solid cosmetics sector did well, with every type of solid cosmetics seeing growth in the hygiene department: a 3-point gain in market share in two years (2019-2021). Shampoo bars gained 2.3 market share points alone compared to 2019, reaching 21.3% of market share. Deodorants (stick, powder or solid) gained 2.1 market share points in 2021 compared with 2019. The various forms of toothpaste (solid, power, tablets) gained 1.7 points from 2019 to 2021.[2]
13.4 million French people purchased solid cosmetics in 2020, i.e., more than one quarter of adults. According to an OpinionWay survey for Alkemics, 43% of French people think that health & beauty products have too much packaging[3]. It's true that the impact of the bathroom in terms of bottles is considerable: according to Belgian company Wash Cousin®, a family of four uses on average 30 bottles of shampoo, 30 bottles of shower gel, 30 tubes of toothpaste and 30 deodorants per year. This is why consumers interested in sustainable consumption are turning to solid versions, which have many advantages, such as zero waste, convenience, money savings, etc.
Ancestral recipes with innovative formulations
Although soap bars are nothing new, manufacturers are now developing varied and qualitative formulas. Each consumer can find the qualities they want – shape, fragrance, a foamy result, etc. –  thanks to an increasingly expanding offer.
More recently, shampoo bars have proven their credibility. Despite many people being sceptical at the start, an increasing supply and the consumer experience have led to shampoo bars being positively welcomed in households.
As for solid toothpastes, they are available in the form of tablets, powder, solid sticks, etc.
This fun and innovative aspect is appealing to more and more people.

The benefits of solid cosmetics
Solid cosmetics have many undeniable benefits:
They are more concentrated, don't require water, and are efficient;
They meet consumers' ecological drivers, and eradicate waste: no more bottles to throw away!
Another important point is the economic factor – a shampoo bar replaces around three bottles of liquid shampoo;
They are practical for travelling – no issues on air travel with the limit on liquid products;
They have natural formulas – without water, there is no need for preservatives!
Minimal design – a single product can have multiple uses, which frees up space in the bathroom and toiletry bag!
Brands committed to the planet
A pioneer in the solid cosmetics sector, Lamazuna has been reducing household waste since 2010 by offering zero-waste alternatives and clever accessories. There is a shampoo bar for every hair type: greasy, dry, coloured, sensitive scalp, etc. The range is completed with soap bars, shaving bars, deodorants, shea butter and make-up removers.
The Green Emporium is the latest creation by Laetitia Van de Walle, founder of Lamazuna. Her new version of shampoo bars is available exclusively in mass retail outlets. Her aim is to minimise plastic waste which is clogging up the oceans. The Green Emporium has teamed up with Surfrider Foundation Europe to further this commitment.
Comme Avant is the story of a couple who wanted ecological products when their child was born and who were interested in the composition of soaps, in particular. Little by little, the family company grew to offer several types of soaps, a powdered deodorant, a solid cream, a solid make-up remover, washing powder, dishwasher powder and cotton accessories. Linen and cotton clothing recently joined the range.
Endro, meaning "nature", "environment" in Breton. For the two founders, Marion and Boris, originally from Lannion in Brittany, this word takes on its full meaning. Originally making four types of artisanal deodorants, the brand quickly developed thanks to the success of its Ulule crowdfunding campaign. In addition to deodorants, the range now includes shampoo bars, toothpaste in paste form, face and body creams, etc. The little glass jar with wooden spatula is now its trademark!
Gaiia has been a specialist in cold-processed soap since 2009 and makes all kinds of soap: emollient soaps, Marseille soap (based on olive oil, coconut and olive or olive, coconut and hemp oil), Aleppo soap, baby soap, emollient soap with anti-viral action, etc. Toothpastes and shampoo bars are also part of the range.
The plant-based powdered ingredients packaged in pretty recycled cardboard boxes by Powder embellish the hair naturally. Inspired by Ayurvedic traditions, these powders are available in their pure form (marshmallow, neutral henna, rhassoul clay, green clay, neem, sidr, etc.), or already mixed to offer the best hair masks (repairing, beautifying, detox, "no poo"). The pure powders have many uses (dry shampoo, mask for the skin, etc.). For each one, the site proposes recipes.
The idea of Perlucine is to recycle white oyster shells collected along the Brittany coast to make appealing cosmetics. Oyster shells are rich in trace elements and mineral salts; they remineralise skin and hair. The products in powder format – body wash, shampoo, deodorant, facial cleanser, etc. – are mixed with a little bit of water. Its powder shampoo received the Silver Award at Natexpo 2021.
Wash Cousin®, a dynamic Belgian company, says that now is the time for action. With its solid products for the face, body or hair, the company strives for zero household waste and tries to make its products accessible to the many. Its leitmotivs are enjoyment, convenience and efficiency.

Clever accessories
To help consumers make the move to zero waste, Lamazuna develops practical accessories. The incredible organiser by Lamazuna keeps solid cosmetics dry and helps you tell them apart! Thanks to its two-sided illustrated grids, you can easily identify your hair, body or face product. Easy to use, it can be stacked, stood up or hung up. It is eco-designed and guaranteed for life.
J'aime mes dents won the Natexpo 2021 Silver Award in the Household and personal products and services category with its Magnetic soap-holder which keeps the solid product dry in the shower by attaching it to a wall with a suction pad. It helps to maximise the life span of soap and shampoo bars. An accessory that is quickly becoming essential!
Natexpo welcomes these brands, which have been committed to reducing waste since their creation, at its next edition, from 18 to 20 September 2022 at Eurexpo Lyon.
[1] Source: Ecommercemag.fr: "Le secteur de l'hygiène-beauté porté par l'e-commerce en France", https://www.ecommercemag.fr/Thematique/retail-1220/barometre-etude-2168/Breves/secteur-hygiene-beaute-porte-e-commerce-France-359522.htm
[2] Sources: Agence BIO, BioAnalytics, INC, biolineaires.com : "Regards d'experts : les solides consolident leur position au rayon hygiène en magasin bio", by Bernard Ollié, Good, March 2022
[3] Source: LSA: "Hygiène-Beauté : objectif zéro déchet" https://www.lsa-conso.fr/hygiene-beaute-objectif-zero-dechet,383063