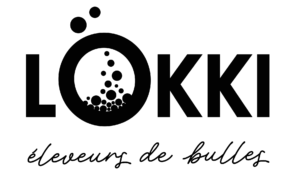 From their corner on the Biopartenaire pavilion in 2017 to their participation in the Organic Incubator, Lökki Kombucha has grown up with Natexpo. In 2021, they are taking the plunge in the Big Splash, the new Natexpo formula designed for former exhibitors of the Incubator who are taking a larger stand.
From their first steps as exhibitors to their enjoyable encounters in the Incubator and the development of their team, Nina Lausecker and Sebastian Landaeus tell all.
You exhibited on a stand in the Organic Incubator: what was your company like at the time?
We exhibited at Natexpo for the first time in 2017 on the Biopartenaire stand and we were lucky enough to be accompanied by our label and to be surrounded by some fine organic brands, which was a real plus. In 2018 we finally stood on our own two feet in the Organic Incubator. We turned up with a nice little bar made of OSB that we had made ourselves. At the time there were only 5 of us in the team and the traditionally-made kombucha was not very well developed. Then came 2019 and 2020 (still with our OSB bar), where we continued in the Incubator with great pleasure because we make a lot of enjoyable encounters.
| | |
| --- | --- |
| The Lökki Kombucha stand at Natexpo 2017 | The Lökki Kombucha stand at Natexpo 2018 |
In what way was this exhibition format an opportunity for you?
This format is great for young companies because it allows them to exhibit at an affordable cost at Natexpo, which is a must in France for the organic sector. Of course, it's still a lot of money for an organic start-up (you have to add on the additional costs: stand, travel, accommodation) but it's a worthwhile investment.
Exhibiting at the Organic Incubator is a great way to meet other inspiring entrepreneurs and you often receive visits from buyers looking for the products and next big thing for the future. There's quite a buzz in the air, and some great opportunities waiting to be seized.
Today you're exhibiting in the Big Splash at Natexpo. What does this new step represent in your strategy?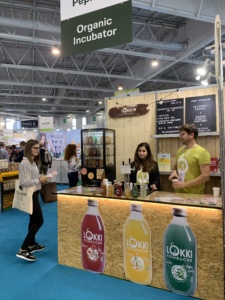 There comes a time when all good things come to an end… if it were up to us, we would have stayed in the Incubator a little longer! However, here are the advantages we find: we'll have more space to move around behind our counter, maybe a bigger fridge to display our entire range, the opportunity to create a new stand? In short, we hope to be able to surprise you and stay offbeat as we like to do.
This new step also shows that we have been able to move forward and develop with our historical partners in the specialist organic sector. We are very happy with these first years and hope that the future will be just as high-quality and promising.
What impact has Natexpo had on your company's development?
Natexpo is an opportunity to meet the creme de la creme of the specialised organic sector. It is the imperative meeting that is not only professional but also convivial and we think it shouldn't be missed under any circumstances. Natexpo has contributed to the development of our company because it has helped us make ourselves known to people who have never seen us before and reinforce our relations links with others with whom we had already been in touch, but only by email or telephone.
What else would you add?
We really look forward to meeting up with you again in October 2021 on our brand new stand!
To learn more about Lökki Kombucha, visit their website.