To help you plan your stay in Lyon and get the most out of the region, Natexpo has handpicked a few essential addresses just for you. Take advantage of your trip to Lyon to discover all the treasures that the city has to offer.
Eating out in Lyon
Welcome to the world gourmet capital! Discovering Lyon also means having a good meal. From the typical "bouchons" to the most prestigious addresses, we help you organise your dinner after a day at the show.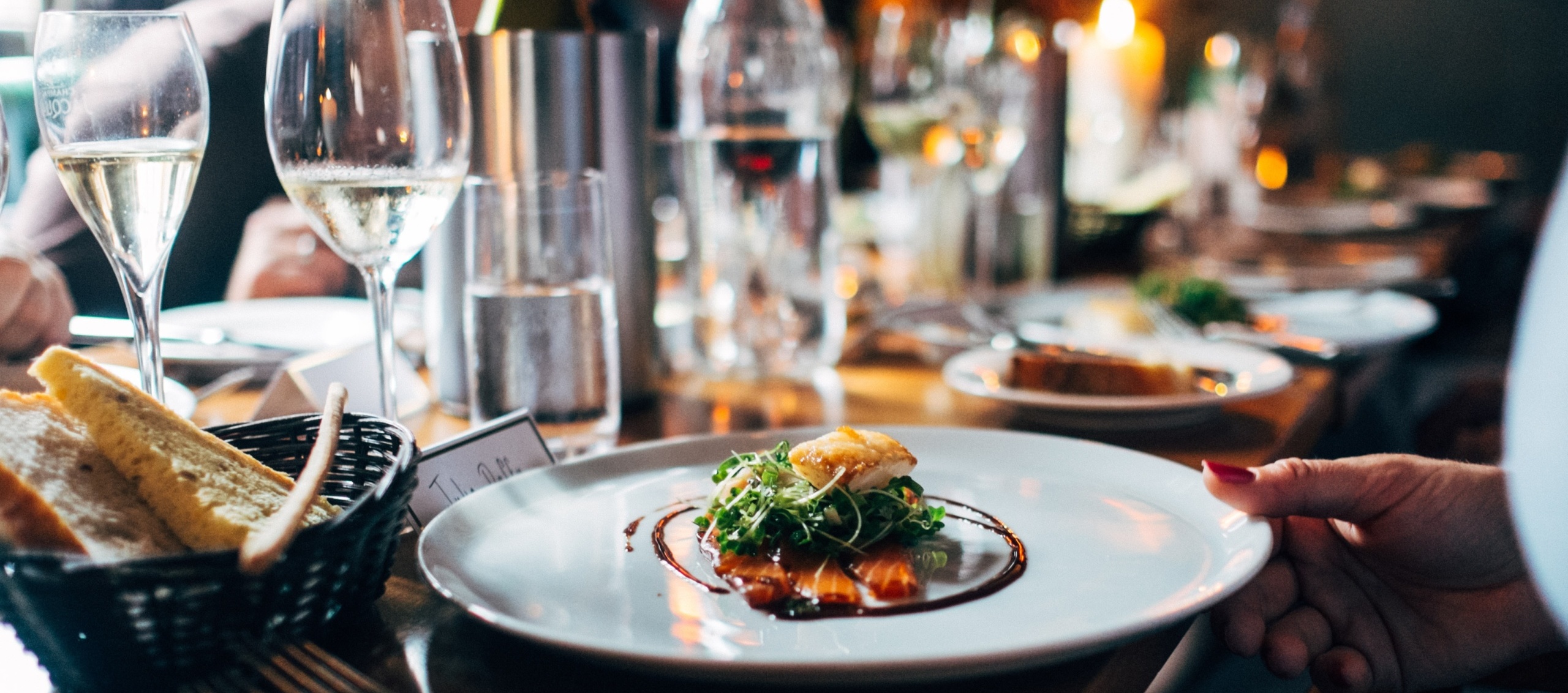 Restaurants and Lyon gourmet food
Chez Paul – The authentic "bouchon lyonnais"
A friendly welcome and generous cooking are what to expect at Chez Paul. Authentic décor ranging from age-old items displaying the history of the city to the traditional chequered napkins will be your invitation to enjoy a pleasant and convivial moment and taste the restaurant's home-made Lyon specialities!
Chez Paul
11 rue Major Martin
69001 Lyon
+33 4 78 28 35 83
Brasserie Georges – A Lyon monument
If there is one restaurant in Lyon that you can't afford to miss, it must be Brasserie Georges. Since it was founded in 1836, this restaurant spanning 150 m² has experienced uninterrupted success. And it's easy to see why: the menu is made up of typical and tasty dishes, all cooked with unparalleled finesse. La Brasserie well and truly lives up to its reputation. So drop in and see if you can sit at the place once occupied by Jacques Brel, Edith Piaf, Jules Verne and many others… you'll be in for a surprise! 
Brasserie Georges 
30 Cours de Verdun
69002 Lyon Perrache
+33 4 72 56 54 54
Café Arsène – Fresh and homemade products
Café Arsène is a modern, locavore bistro that focus on cooking fresh and local products throughout the seasons. This bistro offers a new menu everyday and places its producers as essential partners for inspiration. The chef offers original and modern dishes with a touch of fantasy that will delight your taste buds.
Le Café Arsène
2 Rue Vaubecour
69002 Lyon
+33 4 78 05 41 68
Café Comptoir ABEL – An institution
The Café Comptoir ABEL, is more than a "bouchon Lyonnais", it is an institution.
Its typical decors reflects a true story: waxed parquet floors, shimmering woodwork, French ceilings, large mirrors, paintings and objects unearthed here and there… Here time stands still when tasting the real homemade pike quenelle, the famous chicken with morels or even a delicious crayfish gratin.
Le Café Comptoir ABEL
25 rue Guynemer
69002 Lyon
+33 4 78 37 46 18
Organic, local and vegetarian cuisine
Culina Hortus – An all-veggie gourmet address
Culina Hortus offers you top-end and all-vegetarian menus in a cosy and design-led setting. There is a new menu every week, based solely on vegetables, cereals, fruit, eggs and dairy products, but resulting in copious and most importantly gourmet dishes. Here, the products used are predominantly organic and sourced with great care through short selling channels.
Designated Best Veggie Restaurant in the World by the We're Smart Green Guide in May 2020!
Culina Hortus
38 Rue de l'Arbre Sec
69001 Lyon
+33 4 69 84 71 08
Laska – A veggie bistro for foodies
Located close to the Lyon Opera, Laska (Slovakian for "love") offers you a menu which changes according to the season, with home-made and 100% organic cuisine showcasing the products of the region. The three chefs rotate throughout the day to offer you a series of veggie culinary experiences: for brunch, lunch and dinner. You will also find an excellent selection of wines to go with your meal.
Make sure you book, as this cosy restaurant only has space for 18 diners.
Laska
13 rue Terraille
69001 Lyon
+33 4 78 98 86 30
Les Mauvaises Herbes – Alternative and home-made cuisine
Up in the heights of Croix Rousse and in a welcoming setting, Les Mauvaises Herbes offer an alternative, vegetarian and home-made cuisine. Dishes have no added sugar and most are gluten free, all concocted devotedly from organic seasonal and preferable locally sourced products.
In the evening the restaurant becomes a wine bar with a fine selection of local, biodynamic and natural wines, served alongside sharing platter boards.
Les Mauvaises Herbes
3 rue du Jardin des Plantes
69001 Lyon
+33 4 27 01 52 26
Against the Grain – Vegan, vintage and home-made
Tucked away in the seventh district of Lyon, Against the Grain defines itself as a "relaxed and no-frills cafe and restaurant, open to everyone with a philosophy of mutual respect and non-violence"
Come and taste home-made vegetarian cuisine, using only organic and 100% vegan products. The vintage dining room offers a friendly and welcoming atmosphere. Against the grain is also open for teatime when you can sample a pastry or cake with a cup of tea or coffee. For people with little time on their hands, the shop also offers food to take away.
Against the Grain
135 rue Sébastien Gryphe 
69007 Lyon
+33 4 72 94 05 33
Culinary art and Michelin-starred cuisine
Les Trois Dômes – An exceptional view on the banks of the Rhone
Come and enjoy gourmet cuisine together with an exceptional view at Les Trois Dômes. Perched up on the eighth floor of the Lyon Bellecour Sofitel, the restaurant offers a panoramic view of the city from the edge of the river Rhone. The Michelin-starred chef Christian Lherm revisits the classics with his subtle cuisine, set off with delicate food and wine pairings.
A delight for the eyes and the taste buds!
Les Trois Dômes
20 quai du Docteur-Gailleton
69002 Lyon
+33 4 72 41 20 97
L'Etabli – Refined dishes and regional producers
L'Etabli declares its local roots – just like its vegetables and meat on its menu. You will discover refined dishes and bold sweet and savoury combinations in these menus with three, five or seven courses. The contemporary décor mixed with a flea market atmosphere evoking a workshop, and the creative plate presentation are sure to impress and delight you.
The added extra: an excellent wine selection highlighting the winegrowers.
L'Etabli
22 Rue des Remparts D'Ainay
69002 Lyon
+33 4 78 37 49 83
Auberge du Pont de Collonges – Exceptional cuisine and mythical dishes
Paul Bocuse restaurant, a mythical gastronomic auberge that transcends borders and symbolizes French culinary prestige. A true institution, with its emblematic colors and baroque accents to welcome you for a unique culinary experience.
Auberge du Pont de Collonges – Paul Bocuse
40 Quai de la plage
69660 Collonges-au-Mont-d'Or
+33 4 72 42 90 90
Patios and open-air restaurants
Bol d'Air – A breath of fresh air on a terrace with a view
Leave the city smoke behind in this relaxing setting and enjoy a breath of fresh air – or in French, un Bol d'Air – the name of this "bistronomic" restaurant. There's no set menu here; only fresh, seasonal and regional products make the grade so as to offer a traditional, bistro-style selection.
Bol d'Air
77 avenue de Verdun
69570 Dardilly
+33 4 78 66 14 55
Café Gadagne – A café-restaurant in an incredible hanging garden
At the top of the Musée Gadagne in the old Lyon, cross the courtyard of the splendid historical residence to discover this haven of tranquillity whose vast glazed façade looks out onto a hanging garden clinging to the Fourvière hill. Open from Wednesday to Friday, Café Gadagne is today under the leadership of the chef Frédéric da Eira and offers traditional dishes and daily specials, while opening for brunch on Saturday and Sunday lunchtimes.
A safe bet for people wishing to have lunch before discovering Lyon's old town!
Café Gadagne
5 place du Petit Collège
69005 Lyon
+33 4 78 62 34 60
Having a drink in Lyon
Go out for a drink after a business-rich day at Natexpo.
Lyon's Gastropub – Restaurant or pub? Why choose?
Lyon's Gastropub is an innovative venue with a well-designed décor offering both "neo-bistro" cuisine and a selection of regional and craft beers, all in a cosy and welcoming atmosphere.
The added extra: a gourmet brunch awaits customers at lunchtime on weekends.
Lyon's Gastropub
7 rue Neuve
69001 Lyon
+33 4 72 45 99 12
Les Muses de l'Opéra – Panoramic bar
Perched up on the seventh floor of the Opera, les Muses and its terrace offer you a unique view of the Fourvière hill and the city's rooftops. The drinks list is short but offers high-quality products, cocktails and a fine wine selection, to accompany your tapas. Take a seat on the terrace just before sunset, relax and take in the view, and enjoy the experience in all its simplicity.
Les Muses de l'Opéra
1 place de la Comédie
69001 Lyon
+33 4 72 00 45 00
Modulo – Admire the Hotel Dieu from a barge
Embark and relax on the Modulo terrace. Located in the center of Lyon moored on the banks of the Rhône, this barge offers an incredible view of the bridges of Lyon, the peninsula and the Hotel Dieu. In the evening, admire the cit lights with enjoying a cocktail and tapas.
Modulo
15 Quai du Général Sarrail,
69006 Lyon
+33 4 78 60 14 37
L'Antiquaire – Chic à la Lyonnaise
Dim lights, calm music, comfortable benches, at the Antiquaire you watch the bartenders operate while sipping delicious Amaretto Sour, Gin Fizz or Crab Key. A timeless, like its cocktails.
L'antiquaire
20 rue Hippolyte Flandrin
69001 Lyon
+33 6 34 21 54 65
Le Grand Café des Négociants – Bar, restaurant, tea room in the heart of downtown Lyon
Located just near the Palais de la Bourse and the Chamber of Commerce, in the heart of the Golden Triangle, in the business district, very close to the Théâtre des Célestins and the Opera, this high place of Lyon life, offers you a mix of tradition and modernity.
Le Grand Café des Négociants
1 place Francisque Regaud,
69002 Lyon
+33 4 78 42 50 05
Discover the cultural treasures of the City of Lights
Blessed with a unique cultural and architectural heritage, Lyon is one of the most sought-after destinations in Europe. We have picked out the most essential sites and monuments to extend your stay in the city.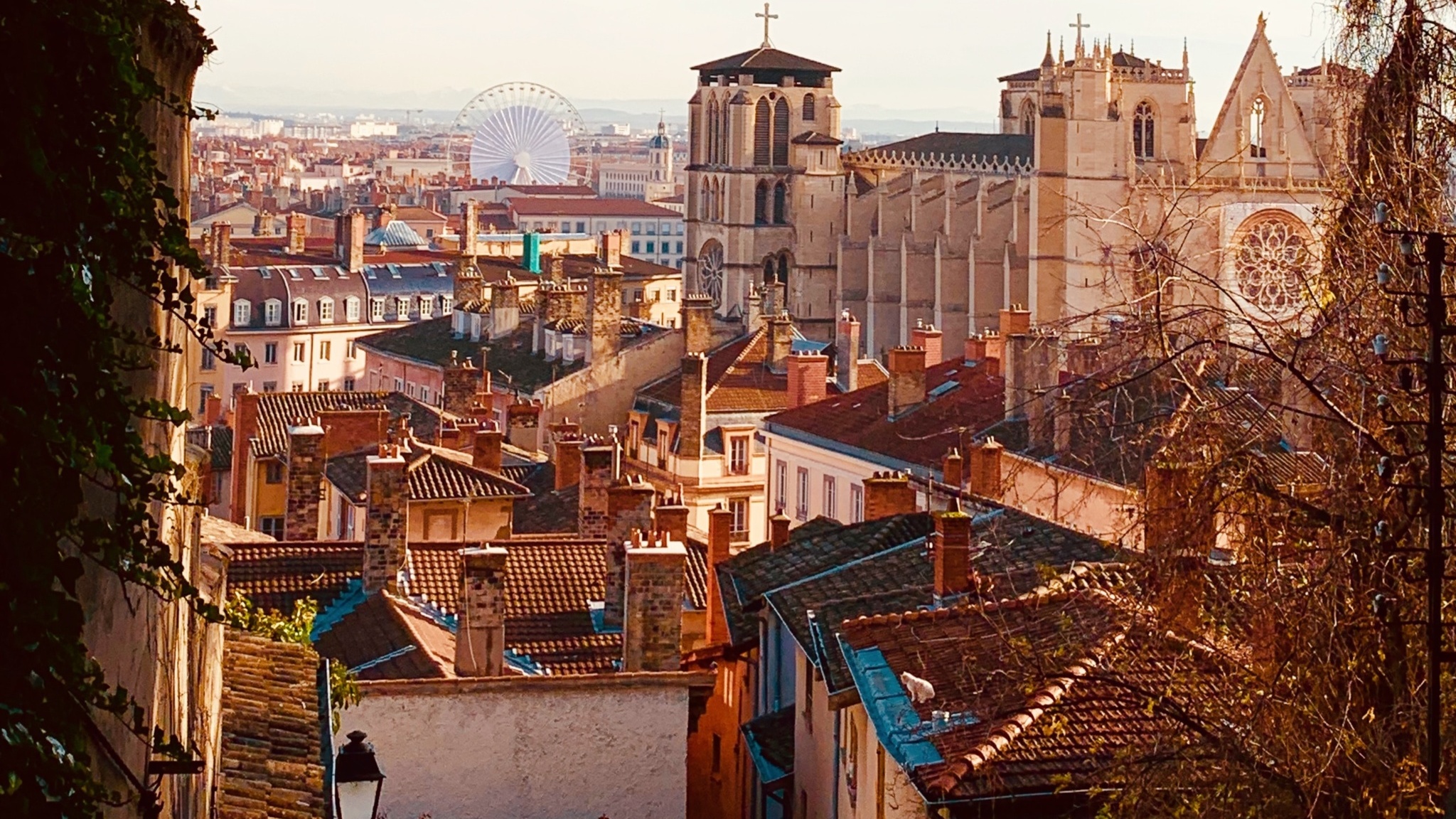 Le Quartier du Vieux Lyon – Authenticity and discovery
Old Lyon (le Vieux Lyon) is the area that no one can afford to miss during a stay in the City of Lights. Its remains and architecture dating back to mediaeval times and the Renaissance are still intact, which makes this district an area marked with history and memories. The beguiling charm of Lyon would not exist without this iconic area. Vieux Lyon is made up of the Saint-Georges part in the south, Saint-Jean in the middle and Saint-Paul in the North, with many squares and historic buildings. 
Le Quartier du Vieux Lyon 
69005 Lyon 5ème
La Croix Rousse and the history of the Canuts
Easy to get to by underground or by climbing the many steps of the Montée de la Grande-Côte, the Croix Rousse plateau, located atop a hill, is a haven of peace that you could be forgiven for thinking was away from the city. It features many designer stores and small restaurants and boasts architecture of cultural and historical importance.
The Croix Rousse is the former district of the canuts, the specialist workers in the silk trade, whose revolts left an indelible mark on the history of Lyon. Visit the Boulevard des Canuts and admire the mural of the same name, a 1,200 square-metre trompe-l'oeil which recounts the life and atmosphere of the neighbourhood.
Round off your Croix Rousse tour with the Gros Caillou to enjoy the view of the entire city. 
La Croix Rousse
69004 Lyon
Museum of Fine Art
Located on Place des Terreaux in the Presqu'île district, the Musée des Beaux-Arts welcomes you in the former Abbaye des Dames de Saint-Pierre. In the 70 rooms of this historic monument, the museum houses a large collection of European paintings and sculptures, artifacts, works dating back to antiquity or on the theme of Egypt. Do not hesitate to get even more out of your visit with a tour guide. In the centre, shaped like a cloister, the garden offers a relaxing walk, before or after your visit. It is considered to be one of the finest museums in France after the Louvre.
Open Wednesday to Monday from 10am to 6pm for its collections. Entrance is free for holders of the Lyon City Card.
Musée des Beaux-Arts
20, place des Terreaux
69001 Lyon
+33 4 72 10 17 40
Musée des Confluences – Culture, sharing and knowledge
The contemporary and original architecture of the Musée des Confluences makes it one of the most exciting museums in the region. It brings together science, history, geography, earth science and humanities to offer a better understanding of the society around us. In other words, a door open onto the world, the universe and knowledge. 
The Musée des Confluences is therefore an imperative port of call on the Lyon cultural landscape, one which always has a surprise in store and takes its visitors on a memorable journey.
In addition to the permanent museum, there are exhibitions, major scientific and artistic conferences, music concerts, events and theme weeks. 
Musée des Confluences 
86 quai Perrache
69002 Lyon
+33 4 28 38 12 12
Activities, leisure and well-being

Halles de Lyon Paul Bocuse – Culinary specialities
If you want to discover everything that the Lyon terroir has to offer, pay a visit to the Halles de Lyon Paul Bocuse where you will find shopkeepers and delicatessen specialists vying to offer you the finest in regional produce. This market is also an eatery where people can enjoy a meal at any time of the day. Les Halles Paul Bocuse is truly the temple of gastronomy in Lyon. A "must-visit" venue for everyone's list! 
Les Halles Paul Bocuse
102 cours Lafayette
69003 Lyon
+33 4 78 62 39 33
A wander along the banks of the Rhone and Saone
Admire the river barges moored along the Rhone or enjoy the best views of the Fourvière hill from the banks of the Saone. At the confluence of the two rivers, Lyon offers you lengthy waterside walks. The river banks, specially designed for pedestrians and cyclists, are a popular place for a city stroll. Treat yourself to a cruise to enjoy Lyon from another perspective. On a sightseeing boat, a barge or a navigate-yourself boat, you have a number of options to spend a few hours on one of the city's waterways.
You can book a one-hour cruise for €13.50 per person using this link, with a sightseeing route that takes in the Vieux Lyon and the Confluence district.
Rent a boat with Cap Confluent !
Parc de la Tête d'Or – Fancy a stroll?
A symbolic place in Lyon, the Parc de la Tête d'Or is the ideal place to enjoy nature and fresh air: a botanical garden, a zoo, a walk alongside the lake… this park has something for all the family! Take a break in this garden of a thousand colours. The Parc de la Tête d'Or has many more surprises in store…
Parc de la Tête d'Or 
69006 Lyon
Grand Hotel-Dieu – Fashion, design, taste and well-being
Following four years of renovation work, the Grand Hotel-Dieu has just reopened to the delight of the Lyon population. This large dome is a jewel in Lyon's architectural crown. Today it is no longer a hospital, but a place the people have adopted to partake in a wide range of activities, always based on hospitality. This conversion makes it one of the essential destinations in Lyon, in the heart of a zone listed by the UNESCO as a World Heritage site. 
Grand Hôtel-Dieu 
1 place de l'Hôpital
69002 Lyon
Guided Tour
Visiting Lyon with a guide is a way of making sure you don't miss the essentials and get to see the loveliest places, even those that are hidden from sight! Each guide puts a bit of his own personality in his tour of Lyon, and does research to enrich his discourse with anecdotes and new discoveries, to make you love his city. Book a guide with Only Lyon. 
Lyon City Card
Get the Lyon City Card to have a free access to exhibitions, museums, public transport, etc.  during 1, 2 or 3 days!
For more information about the City of Lights, visit the tourist office of Lyon. 
Peace of Mind Charter
Partner of Natexpo 2022, ONLYLYON Tourism and Greater Lyon have created the 'Peace of Mind Charter: caring for each other'. This charter of health commitments has been adopted by more than 400 establishments in Lyon concerned with tourism, transport, leisure activities and business tourism to provide the best possible conditions for visitors.
By signing the Peace of Mind Charter, Eurexpo undertake to protect your health by applying and respecting the directives and recommendations issued by the authorities to fight against Covid-19. 
health protocols applicable at national level and in professional sectors;
social distancing rules and recommended virus prevention measures.
Find more information and the list of establishments on the website : www.charteserenite.com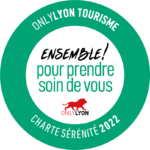 Nearby hotels
Download here a list of hotels near Eurexpo Lyon, to facilitate your venue.