Natexpo confirmed its status as a must-attend event in the organic market at this 2020 edition, which brought together 7,965 professionals on 21 and 22 September.
As a true reflection of the spectacular growth of the organic market, Natexpo welcomed nearly 200 new exhibitors. They were accompanied by the biggest players in the organic market and exhibitors loyal to the show, thereby offering the sector's professionals an all-round view of the latest organic developments.
Retail remains the key to the vitality of the organic market, with 24% growth recorded in 2019. There are now more than 3,000 specialist organic outlets in France with an average of 3.92 openings per week. The mass retail sector is not to be outdone with growth of 18.3% in its organic sector. [1]
This dynamism can be seen on the shelves, which are constantly reinventing themselves to make organic products more accessible and meet an increasingly exacting consumer demand.
Natexpo has a sector dedicated to Services and Equipment for Retail and Brands, to offer project sponsors all the keys to following the trends and successfully opening their shops.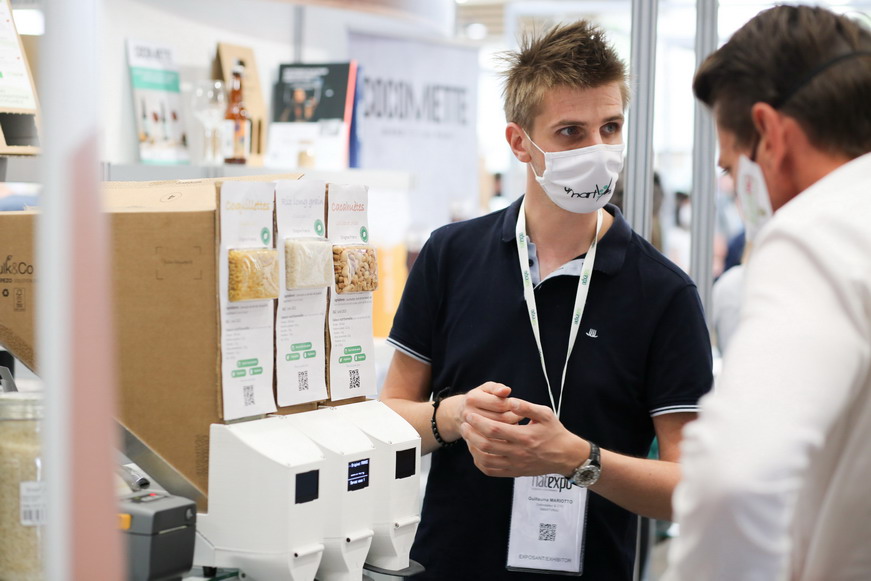 Many experts were present at Natexpo and at the disposal of project developers to present their innovative processes for shop design and organisation.
Arbre en bois supports retailers with advice on store layout and offers them custom-made furniture made from wood and metal. You can also enhance your project's look and feel with the expertise of Vidal Agencement and Atawa's interactive screens, which provide customers with live information and content. Deltasac's know-how accompanies all sectors with its eco-responsible and recyclable packaging solutions. These values are shared by Milhe & Avons, which offers tailor-made, biodegradable and recyclable bags and packaging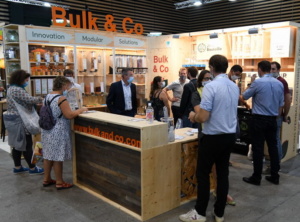 Today the big trend is in loose goods, which can now be found in all distribution channels, but not just any old how! To meet the growing demand of consumers looking for simplicity in their purchases, both specialist shops and hypermarkets are adapting. Les Experts du Vrac study each loose goods retail project to propose their innovations in this field. Bulk & Co provides packaging for each type of product sold loose: glassware, furniture, stainless steel tubs, silos or tanks, while Vrac'Innov specialises in liquid dispensing solutions. For businesses that want to go further towards zero waste, Vracoop and Smartvrac have reinvented loose goods purchasing by developing a solution that allows you to know the weight and amount of your purchase as you fill your container.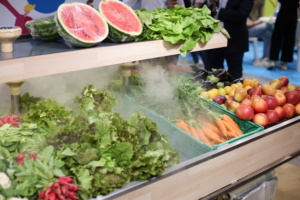 In the chilled food section, ARECO optimises food conservation with its made-to-measure solutions.
On the logistics side, Zero-Gâchis helps retailers manage their unsold goods to reduce food waste and optimise their profitability. Infologic offers management software specialising in food and cosmetics to manage the entire production chain. Green Village helps retailers and purchasing offices reduce fruit and vegetable waste as sell as that of other variable-weight products.
IPCube has developed the cardboard pallet: much lighter, stronger and more economical than the conventional wooden pallet, to facilitate supplier logistics. Cartoneo also uses this material to offer customised packaging and POS solutions. In the field of packaging, FB Solutions optimises workstations for greater productivity and ergonomics.
Stock Froid has the Ecocert label and offers its logistics and storage services for fresh products in the heart of the Charolais region, to hold goods for customers and even deliver them.
Looking for a wholesaler in France? Oxa-Food Market will be your partner for your purchases. A springboard for young organic brands and with a very wide-ranging offering, Aventure Bio is positioned as a reference as an organic and sustainable wholesaler.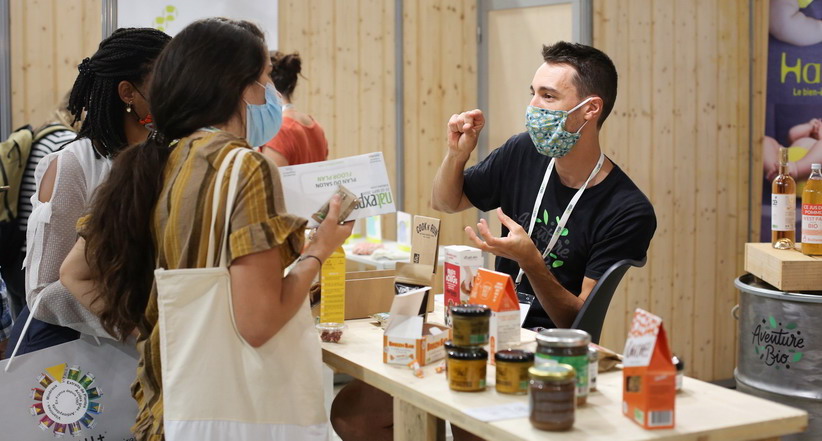 Find the latest trends in organic distribution on www.circuits-bio.com.
Discover the full list of the first-time 2020 exhibitors
[1] Source : Biolinéaires