An exhibition and pitch area dedicated to young companies that excel in the circular economy and technological eco-innovation, The Lab is back at Natexpo for the third successive year.
In response to a multitude of environmental challenges, entrepreneurs are developing ingenious solutions to reduce their carbon footprint and promote responsible consumption and corporate behaviour.
As with past years, a winner will be designated at the end of the pitch contest.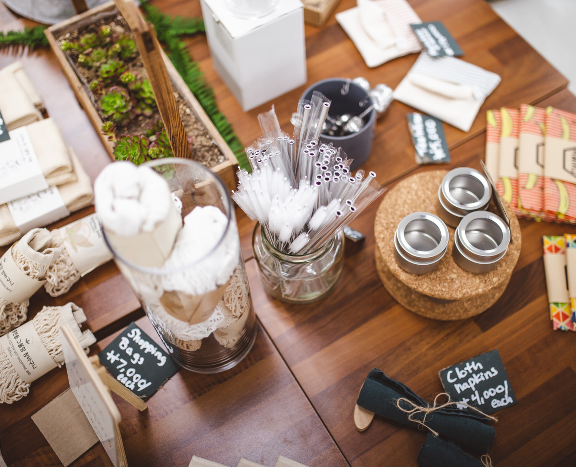 Recycle and reuse: new consumption methods
No more waste, the time is ripe for recycling, reuse and zero waste whenever possible. Uzaje is a big advocate of this: it has developed an entire system for reusing glass or stainless steel containers, which are washed in an environmentally friendly way after use in specially designed facilities, before being reused. Who is it for? Shops, caterers, restaurant owners, food manufacturers, etc.
For LittlePots, reusable containers are the solution. With its range of jars, pots, bottles and zero-waste kits, the company has elegantly reinvented the notion of home-made.
In an aim to reduce waste, Le Green Griot recycles textiles that are rejected after technical performance compliance tests to make them into tablecloths, tote bags or clutch bags. Based in the Hauts de France region, the company works with community support workshops (handicapped workers and job seekers).
Zéro-Gâchis meanwhile strives to reduce food waste by helping supermarkets manage their unsold goods. The concept is straightforward: consumers consult an application on their phone to find out which shops have partnered the initiative. Result: products that are still consumable but sold more cheaply.
The end of disposable plastic
Start-ups are becoming ever more inventive in a move to get rid of plastic. Whether it be chewable toothpaste by Paos, bamboos straws by Panda Paille, beech wood toothbrushes by J'aime mes dents or the washable cotton buds by Last Object, all offer ingenious alternatives to throwaway plastic.
The concept adopted by the young company Weetulip avoids using bottled water or plastic filters by providing everything you need for purified water. The secret is in bamboo charcoal, sourced directly from a cottage factory in Japan.
Ever greener packaging
Carbiolice develops plant-based, biodegradable and compostable plastic solutions. Seven years of research and around 20 patents were necessary for the development of an enzyme additive which makes the plant-based plastic entirely compostable, not only in industrial conditions but also at home. A wide range of applications are possible: packaging, flexible films, single use cutlery, capsules, etc.
Products made to last
The all-disposable fashion has done its time. But consumers keen to buy sustainable do not always know what products to turn to. To get clearer information, the cooperative and participative company Ethikis ad Civis has developed Longtime®, a European label based on design, repair and warranty criteria.
Paké offers an eco-friendly alternative to wrapping paper. Inspired by the Japanese tradition of furoshiki, its gift wrap exists in three different formats all made from recycled fabric. You keep them, you can reuse them, but don't throw them away!
Laundry detergents in a spin
Too many bottles, too many questionable ingredients. Several companies have reinvented the laundry detergent world, such as Pimpant with its eco-friendly detergent kit allowing customers to make their own. The concept is totally eco-responsible with natural and biodegradable ingredients and an attractive reusable bottle. The company also markets a stain remover soap and a washing powder aimed at sports kit and household linen.
Keen to offer "clean" detergent, Les petits Bidons focussed on concocting a biodegradable formula without palm oil, optical brighteners, borate, etc. Four varieties are available plus a baby clothes detergent. Bottles are recyclable and 100% made from recycled plastic waste.
Another follower of green formulae is Mutyne which offers a range of ecological, eco-responsible and ethical cleaning products including a concentrated clothes detergent.
Clever Beauty: a new-generation nail varnish! 
The winner of the pitch contest last year, Clever Beauty is back again this year with its concept of eco-friendly nail varnish. Not only is the formula clean, since all the toxic ingredients have been taken away, but in addition the bottle has been specially designed to pick up the most possible varnish. With a click