SPAS ORGANISATION, the organiser of Natexpo, and NATEXBIO, the French Federation for the organic sector, welcome the publication of the French ministerial decree of 27 July confirming the go-ahead for exhibitions and congresses from 1 September onwards. Thanks to the trust displayed by exhibitors and the support of the entire sector, Natexpo will open as planned on 21 and 22 September at Eurexpo Lyon.
Nearly 700 exhibitors have already signed up for this major business restart event. To date, the exhibition has also recorded 10% more intentions to visit compared with the same point in time for the 2018 Lyon show.
In strict compliance with all necessary public health measures, thousands of visitors are therefore expected for this two-day reunion of organic professionals, coming at the end of several months of being apart.
NATEXPO thus constitutes the first highlight in the calendar of organic professionals since the beginning of the public health crisis. It will act as a springboard for organic market players who will at last be able to meet up and exchange following these long months during which business relations have been quite atypical. To enable the event to take place in the best possible conditions of safety and comfort for exhibitors and visitors, the organisers will be taking all the security measures as circumstances require
As a benchmark event in the organic sector, NATEXPO represents a prime opportunity to get up to date on the powerful growth of organic products which have confirmed their appeal among consumers since the beginning of the coronavirus crisis. Consumers have indeed massively channelled their buying towards organic products during the lockdown period, leading to record-breaking sales today. This situation comes as confirmation that organic products offer a means of fulfilling the expectations of French shoppers.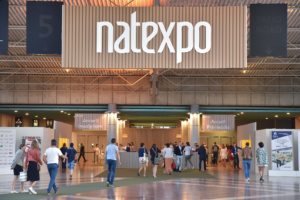 An all-encompassing view of the new Organic trends
All the categories of the organic market will be represented at the Lyon exhibition: food, ingredients and raw materials, health food and dietary supplements, cosmetics and personal hygiene, household and personal products and services, retail and brand services and equipment. An array of talks and special features will also be happening throughout the exhibition, among them the NATEXPO Awards which recognise the latest innovations on the market.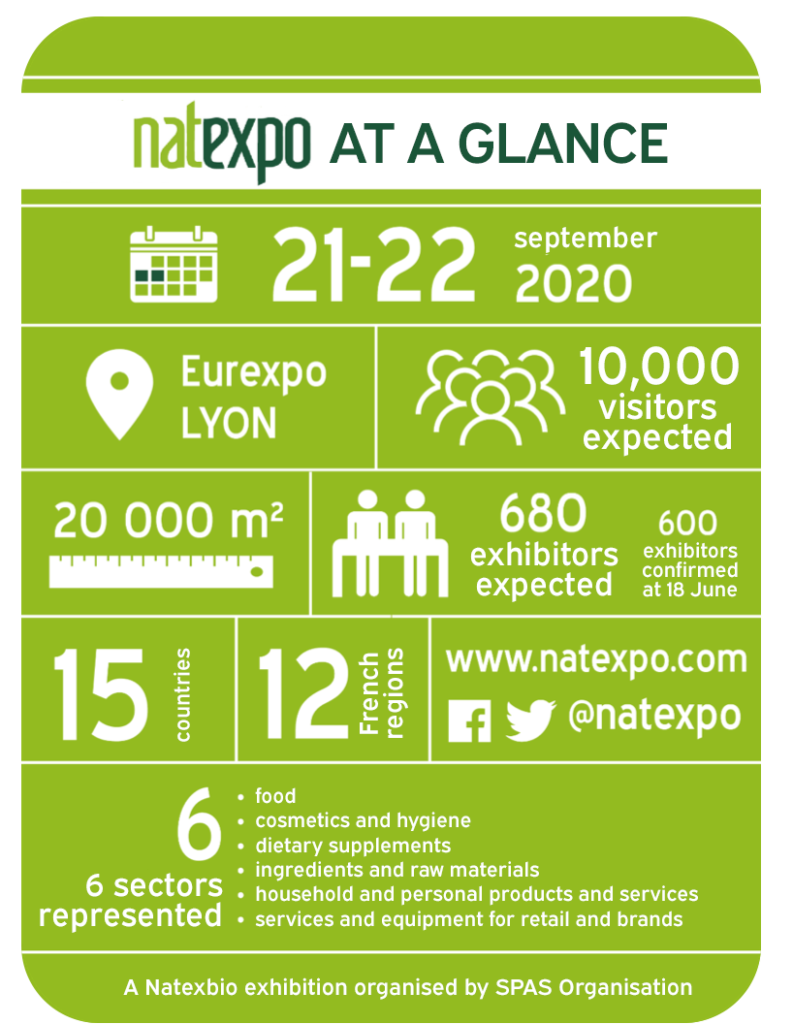 Stringent health measures for everyone's safety
Natexpo is implementing a set of stringent health guidelines to guarantee everyone's safety during stand assembly, the exhibition itself and dismantling:
Wearing a face mask will be compulsory,
People will be required to wash their hands with sanitizer at the show entrance,
All visitors will receive a free individual bottle of hand sanitizer,
Hand sanitizer dispensers will be positioned at several locations in the show (toilets, restaurant, rest areas, etc.),
Digital communication will be reinforced (talks programmes, show content, etc.),
Catering areas will be extended to enable the regulatory social distancing of tables
Please feel free to confirm your attendance at the show: we will arrange for your pass to be ready for you at the show entrance.