650 organic stakeholders, from France and abroad, have planned to make the trip to Lyon on 23rd and 24th september. This edition, taking place at the heart of a leading region for organic products, is already shaping up to be a huge success. Both upstream and downstream segments are represented in the city, situated close to the largest organic production zones in France.
The Auvergne-Rhône-Alpes region if the first French region in terms of organic processors, and the 2nd in terms of farms and distributors (source : Cluster Bio).
It is widely represented at Natexpo.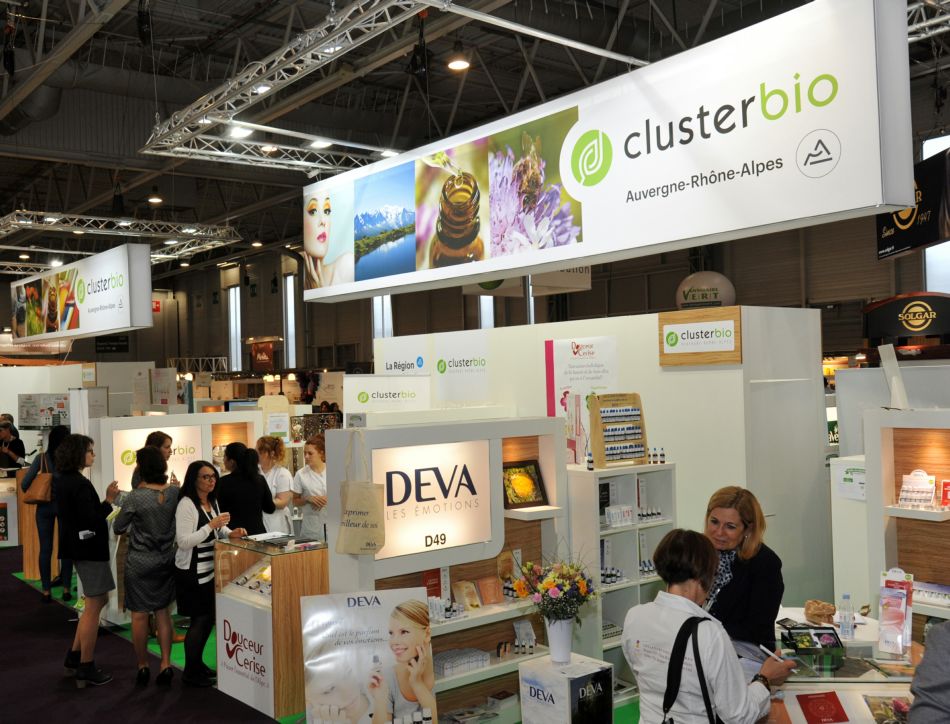 New in 2018, Natexpo's Regional Focus is an area dediacted to regional clusters. Through a series a conference, this feature is offering a space of expression to French regions.
Local companies :
AEM SOFTS – AGROBIODROM – AIRCHIPS NUTRITION – ALPES BISCUITS – ALV – APPLYMAGE – AUVERGNE RHONE ALPES ENTREPRISE – ANTENNE ALLIER – B-PHARMA LABORATOIRES – BIERCORS / BRASSERIE DU VERCORS – BIO DES LYS EURL – BIODEAL – BISCUITERIE DE PROVENCE – BOHO GREEN – BRIO FRANCE SAS – CELNAT S.A. – CHICHE SAS – CLAC ! – CLUSTER BIO – COEUR D'ABEILLE INNOVATION SAS – CONCEPT FRUITS – COSMEBIO – COSMEDIET – BIOTECHNIE – COSMÉTIQUE DÉTERGENT SAVON – BULLE VERTE – CUISIDIS – EARL CHARVIN – EKIBIO SAS – ELIOS SARL – ELIXENS FRANCE – ESKISS PACKAGING – ETABLISSEMENTS FAVRICHON ET VIGNON SAS – FRUTAS SANCHEZ SAS – GAD PRODUCTION – GO NUTS – GOLDEN TEMPLE FRANCE – GOURMANDESIGN SARL – GUSTONEO – HERBIER DU DIOIS – HGM FOOD AND DRINKS –  ICI & LA SAS – ICO MARKING SYSTEMS – JDC SA – KARETHIC – KARIO SAS – LA COMBA – LA COMPAGNIE DU RIZ – LA FABRIC SANS GLUTEN – LA SOURCE – LA VIE CLAIRE – LABORATOIRES PHYTEMA – LABORATOIRES PLANETE BLEUE – LE PAIN DE BELLEDONNE SAS  – LE RELAIS LOCAL – LES BRASSEURS SAVOYARDS – LES TENDANCES D'EMMA – EML DISTRIBUTION – LOFLORAL – MARKAL – MILAROM – MINOTERIE DUPUY COUTURIER – MOULIN MARION MEUNERIE – NAHIL – NAMAKI COSMETICS – NATURE ZEN FRANCE ADMINISTRATIF – NATURE.COS SARL – NOIREÔNATUREL COSMETIQUES – NORD OUEST – OUTDOOR ORGANIC NUTRITION SAS – PAGÈS THÉS ET INFUSIONS – PARADEIGMA – PERE LOUIS – PIC ET COLEGRAM BOISSONS ME-ME – PLANTE ET BEAUTÉ BIO – ROGER DESCOURS SAS – SALDAC – SARL AKAL NIVAS – SARL BIOFLORAL  – SARL DOUCES GOURMANDISES – SARL FACON CHOCOLAT  – SARL HELPAC – SARL SAMADHI – SARL SOREDA-DIET – SAS BIORANGA – SAS FRANCE DELICES – SAS NAJJAR – SASU ALIMED – SOCAF LES CAFÉS DAGOBERT – SOCIETE FINANCIÈRE DE LA NEF – SOLE MIO SAS – SONOCO CONSUMER PRODUCTS MONTANAY – STURM FRANCE – TDG "TRADITION DU GOUT" – TERRE D'ADAM – THERA SANA – VECTEUR ENERGY – VIBRAFORCE LABORATOIRES…(List as of 04/06/2018)