As a showcase for innovation at the show, this year's edition of Le Lab provided more than 30 young companies with a chance to present their novel and ambitious ideas to an audience of connoisseurs. New discoveries, shared values and productive encounters: here we take a look back on the Natexpo adventure experienced by Le Lab exhibitors.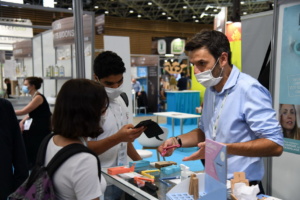 "Le Lab enabled us to meet many potential customers but also brought us into contact with other entrepreneurs exhibiting on Le Lab with problems and issues similar to ours."
Jean Suisse-Guillaud – Last Object – sustainable alternatives to disposable everyday items
"Natexpo was a worthwhile experience: we found ourselves in the middle of a buzzing atmosphere that was shared with both visitors and the other young exhibitors with novel and sustainable projects."
Laurène Pons – Panda Pailles – Distributor of eco-friendly bamboo straws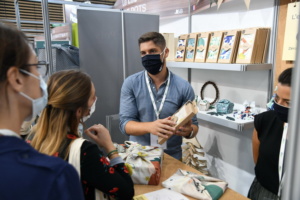 "Le Lab is a superb opportunity to meet new clients and partners. It is also a greatopportunity to present your products and solutions thanks to the pitch sessions."
Benoit Savinel – Paké – Reusable fabric gift wrap
"Le Lab de Natexpo: the ideal backdrop on which to unveil our smart distribution solution for loose goods and obtain a lot of constructive and thoughtful feedback! We even concluded several partnerships following the show. Always a pleasure to take advantage of the event to meet a multitude of entrepreneurs with great projects and noble values! We are already looking forward to the next edition."
Oriane Sentis – SmartVrac – Automated loose goods selling solutions for stores.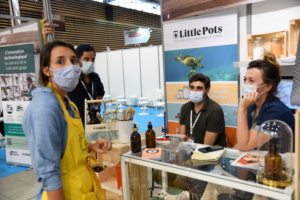 "Le Lab is full of uplifting encounters, shared values, bright ideas, an unparalleled dynamism and a benevolent view of the future… In short, a breath of positive fresh air! At Little Pots we've fully recharged our batteries and we're already raring to go for the next edition!
Manon Saroul – Little Pots – Online distributors of glass jars and containers

"Natexpo 2020 generated us a lot of contacts to help us develop our industrial packaging solutions, among both retailers and manufacturers."
Emmanuel Auberger – Uzaje – Industrial solutions for the reuse of containers
"Our first exhibition, taking place in exceptional conditions which did not dampen our enthusiasm or the thrill of being in Lyon. Natexpo is the place to be!"
Guizlane Jougleux – Mutyne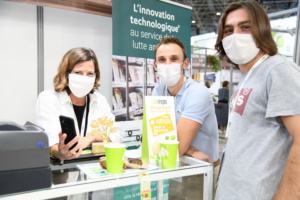 "The organic sector has always carried a lot of meaning and awareness of consumerissues. At Natexpo, we see Le Lab as being the showcase of essential innovation at the centre of a trade show which is already ahead of its time in terms of environmental issues. It enabled us to generate promising contacts with many retailers." 
Sophie Lieubeau – Zéro Gâchis – Inventory management and anti-waste solutions for shops
"Natexpo was a fantastic experience for Cap Bambou and the show gave a real boost to our development. We made some very promising acquaintances, who always shared our values and were considerate towards us. It was perfect!"
Vincent Penel – Cap Bambou – Natural and biodegradable alternatives to single use plastic products
"Exhibiting in Le Lab at Natexpo is a fantastic opportunity to meet buyers from large groups, concept stores and thus expand one's distribution network. Le Lab is ideal for discussing with other companies who share the same values, and it gave us excellent visibility within Natexpo"
Maeva Bentitallah – Clever Beauty – Natural nail varnish in anti-waste bottles
"Natexpo was an excellent opportunity to promote our new concept of zero-waste art de vivre and meet new trade customers."
Yvette Roozenbeek – Weetulip – 100% natural water filtration solution
"A nice, dynamic team, a well organised show in spite of Covid restrictions… Popotte Duck was delighted to be able to take a stand at this exhibition for organic and responsible consumption." 
Alexia Desporte Richard – Popotte Duck – a multi-cooker food processor to reduce food waste
Is your approach consistent with zero waste or the circular economy? Do you want to spread the word about your technological eco-innovations?
Then come and join in and take part in the Natexpo experience  on Le Lab!