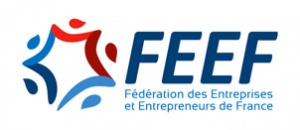 The Federation of Enterprises and Entrepreneurs of France, known as FEEF, was founded in 1995 to encourage a conducive ecosystem for independent SMEs in which they could guarantee the long-term success of their business. It proposes business meetings throughout the year with supermarkets, out-of-home catering, e-commerce, specialist superstores, specialist networks and the export sector. It helps SMEs strike deals with retail chains, supports SMEs in their digital transition and encourages everyday deployment of CSR within the company thanks to the PME+ label.
FEEF, which currently has around 900 member companies in both the food and non-food sectors, is a partner of Natexpo.
New participants at Natexpo
Of the 1,350 exhibitors expected this year, by the end of June nearly 86 of those that had signed up were FEEF members, including many new participants. In the food sector, Biscuiterie de l'Abbaye, established in Lonley l'Abbaye in Normandy, makes traditional shortbread biscuits and other delights using quality local ingredients. The family company, Sicard, from the West of France, boasts over 40 years of know-how in making brioches, bakery products and other conventional and organic products. Based in Loire Atlantique, MAG'M proposes luxury miniatures in numerous flavours and colours for sweet or savoury receptions, as well as organic macarons.
Groupe Bontout, a mushroom specialist, selects the best varieties from all over the world: boletus, chanterelles, morels and others are then processed and packaged in tins, dry or dehydrated, in the company's factories.  Chestnuts, herbs and spices are also part of its range.
Groupe Poulaillon, the creator of the Moricette® sandwich, a real Alsatian institution, strives to offer the best in bakery, which is its historic trade, as well as pastries, snacks and other delicatessen appetizers. It has a catering service for all kinds of events, offering a wide range of sweet and/or savoury goods.
In the Cosmetics and Hygiene sector, La Brosse & Dupont will be showcasing their expertise in the hair styling, hygiene and beauty, cleaning and haberdashery universes. The company designs long ranges, provides logistics adapted to retail chains and shares its sales force with its partners throughout France.
What's the idea behind La Compagnie du bicarbonate? To encourage the use of simple and effective raw materials, mainly sodium bicarbonate, in every possible application. The company also sells vinegar, black soap, washing detergent in the form of Marseille soap flakes, etc.
FEEF talks on key subjects
On Monday 25 and Tuesday 26 October, FEEF will be holding three talks on key topics such as brand strategy, organic catering in canteens and the eco-design of packaging and product information.
The first will take place at 11am on Monday 25 October, under the title "Is the organic sector in danger? Perspectives with Carrefour". Benoit Soury, director of the organic market at Carrefour, will be the speaker and the round table will be moderated by Olivier Collet, head of retail relations at FEEF.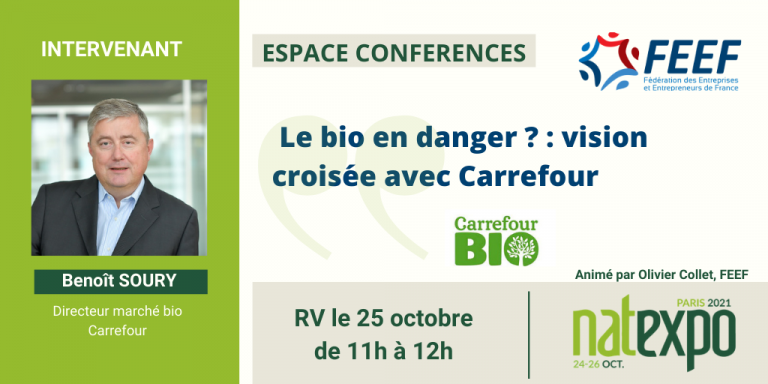 On the same day, at 2.30pm, the conference "The organic sector and responsible purchasing in canteens" will be moderated by Carole Cazaban, Head of OOH Relations and Export Relations at FEEF. Speeches will be given by Florent Moulis, Regional Purchasing and Supply Director in the Purchasing Department – France of Sodexo, and Jean-Philippe Thevenet, Food Purchasing Division Director in the Purchasing Department – France of Sodexo.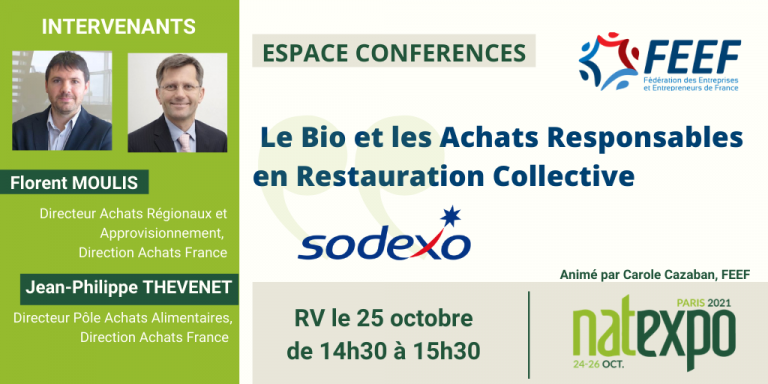 On Tuesday 26 October at 11am, Isabelle Frappat, Head of the Development Division and the SME+ Label at FEEF will host the conference "Packaging and product info: New dialogue between SMEs and chains" with Angel Rodriguez, Managing Director of BIOPLANTS, Stéphane Debeunne, CEO of France Cake Tradition and Sophie Bonnet, Product Quality Coordinator and Cross-sectional Unit Manager at Intermarché.