Hunting out high-quality and original products is the future of fine food! This year, come and discover the remarkable range on offer from Natexpo's exhibitors and renew your sourcing to keep your customers satisfied.
The products presented at the show this year feature taste sensations, artisanal know-how and top quality terroir produce.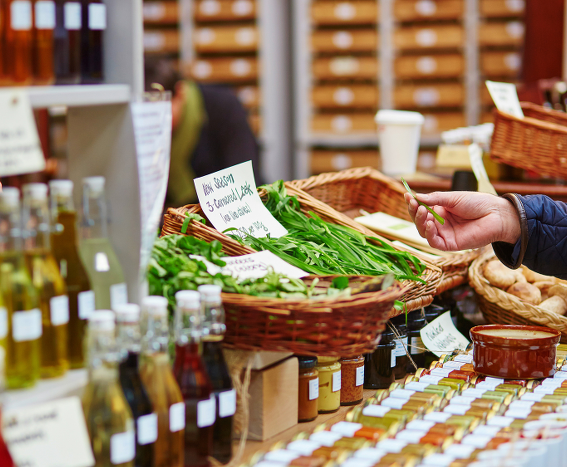 Sauces and spreads offer a colourful feast
In delicatessens, customers like to find rare and high-quality products. Sauces are in a category of their own, able to ingeniously light up everyday dishes. This year will see a fine array of innovations exhibited at Natexpo!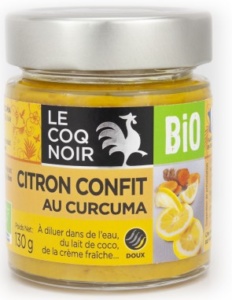 Used in the same way as mustard, the citron confit with curcuma by Le Coq Noir is ready to serve. An association of two raw and organic superfoods, this entirely original culinary aid combines nutritional qualities and convenience!

The green tomato chutney by Babelicot uses tomatoes which do not have time to ripen, adding taste to them with a savvy blend of spices. A double whammy both for consumers who get a delicious and original condiment, and for tomato growers who get a new revenue stream!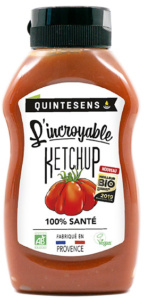 And even ketchup is getting a new identity! The Biofuture's Incroyable Ketchup Quintesens (Natexpo Gold Award in the grocery products category) plays the nutrition trump card with three times less sugar. Its ingredients list is based on organic and authentic products: Marmande tomatoes, carrots and beetroot.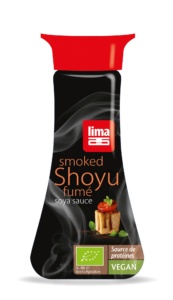 For palates in search of a new experience, the cherry wood smoked soy sauce by Belgian firm Lima offers a quite new taste experience. Giving a lively touch to marinades and bouillons, this sauce will also bring some pizzazz to vegetables and vegetarian proteins.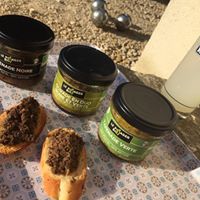 The Oriental spicy green olivade by Compagnie Bio de Provence blends the mild taste of green olives with the refined touch of oriental spices. With its flash pasteurisation process, all the best nutrients are conserved.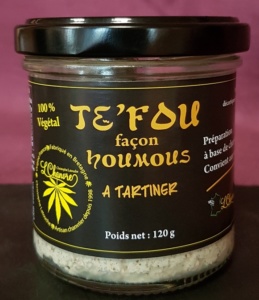 The Hummus style Te'fou by L'Chanvre brings together the flavours of hemp seed, olive oil and cumin. A topping plentiful with protein and essential fatty acids!
Oils and vinegars: delicatessens go premium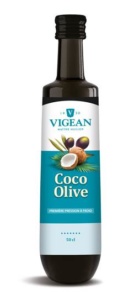 Finding new products, in particular oils, that are both different and high quality, is one of the aims of the delicatessen clientele, always on the lookout for new treasures. Such is the case for the coconut and olive oil by Vigean, blending 70% olive oil and 30% coconut oil. The firm has succeeded in producing a uniform product from a solid oil and a liquid oil, resulting in a concentrate of benefits!
As for the Modena PGI balsamic vinegars proposed by Acetaia Guerzoni, they are made in the world's only organic and biodynamic-certified vinegar factory. Top-end products for more varied seasonings.
Le Charmeur: the bouillon of a chef!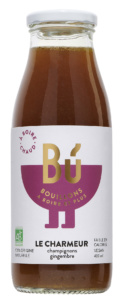 Mushroom enthusiasts will just love the all-natural "Le Charmeur" bouillon by BÚ BOUILLONS. In this consommé, button mushrooms and shitake are spiced up with a touch of ginger, coriander, parsley and garlic. It can be consumed on its own or used in a recipe.
Aperitifs take on the terroir touch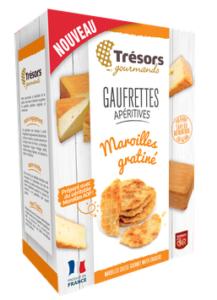 The aperitif crackers by La Pâtisserie des Flandres, made with carefully selected ingredients, are palm oil and preservative free. The pumpkin seed variety is suitable for vegans.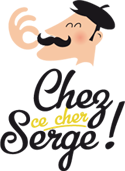 The energetic firm Chez ce cher Serge has a certain approach to snacks and aims to give centre stage to French ingredients and the cultural heritage of its regions. The crispy chips with bell pepper and Espelette pepper are a fine example of this! In the same way as the full Provence taste can be found in the Drôme Provençale aperitif biscuits (by Biscuiterie de Provence), made with Nyons olives (PDO), Dieulefit PDO picodon cheese and Drôme PDO garlic.
Little follies to skilfully liven up cheeses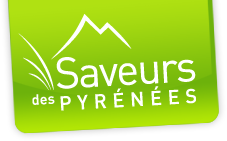 The Folies Fromage, made by Saveurs des Pyrénées (a collective of SMEs from the Pyrenees and the south west of France) are low-sweetness fruit preparations seasoned with spices. Made with artisan quality by the company Guillaume & Lesgards, these "follies" come in small recyclable packs and each of them underscores the specific flavour of a cheese: fig, bay and raison for goat's cheese, apricot, cumin and orange zest for camembert, etc.
Revisited sweet treats
Sometimes it only takes a handful of carefully selected organic ingredients to restore well-known desserts to their former glory, or a few original combinations to create new sweet stars.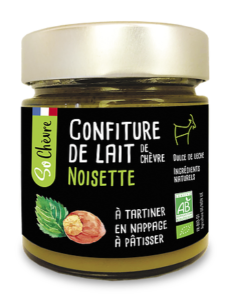 Dulce de leche is one of those lasting children's pleasures. When it's made with French organic milk, it's even better. This is what Panacée des Plantes offers with its NaturAttitude cream. The socially conscious firm Amaltup offers variations of goat's milk: plain, hazelnut or vanilla.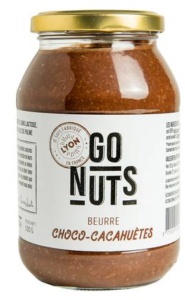 The Go Nuts spread is a mix of grilled hazelnuts (80%) and chocolate chips (60% cocoa). In this treat there is no lactose and no added lipids, as it is made from only two ingredients!
ABCD Nutrition uses French ingredients (eggs, wheat) for its small chocolate and hazelnut brownies sold in individual packets.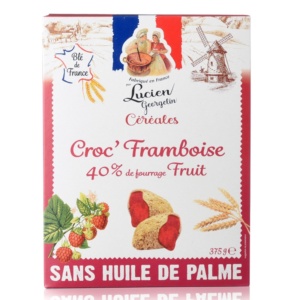 To replace ultra-processed breakfast cereals, Lucien Georgelin has developed Croc'Framboise, a recipe without palm oil or hydrogenated oil. And to round off the pleasure, these cereals have a 40% raspberry filing.
Mixing pieces of fruit with aromatic herbs or honey is the brainwave of Ducs de Gascogne, with their three desserts: pear and mint, apricot and verbena, black cherry and honey.
Drinks sparkling with innovation
The traditional fizzy drink market is on the way out. Today, the organic sector is displaying its innovation with low-sugar and high-plant ingredient drinks.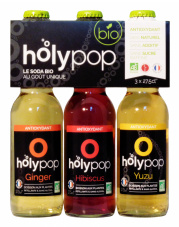 On striking example is the exotic Holypops by Kario, botanic sodas made from 32 plants, offering a reinvigorating effect, without using alcohol, caffeine or taurine. And what a success story: the company established in the Alpes at the start of the 20th century nearly went bankrupt before being saved by a locally-born entrepreneur. An ethical and supportive adventure!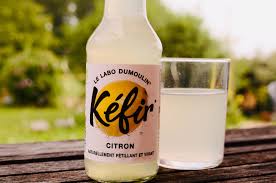 The fruit kefir by LDD et Cie is a refreshing and fruity drink, naturally rich in micro-organisms. With a powerful taste and low in sugar, it offers health benefits.
To be consumed like a cold drink, the fruit bouillon Le Malicieux (pear and aniseed) by BÚ BOUILLONS is a big surprise for the taste buds with its original flavour: pear, star aniseed, cardamom and ginger form a harmonious and perfumed blend. Its key asset: a unique manufacturing process in which the ingredients are cooked slowly, giving the drink an unparalleled lightness.

Kombucha is a tea which becomes sparkling through a double fermentation process. Yeasts and micro-organisms are incorporated, followed by natural and organic flavourings. The Ritual Kombucha Malva et Rose by Bio Brasseurs associates mallow petals and rose buttons, offering a moment of divine relaxation!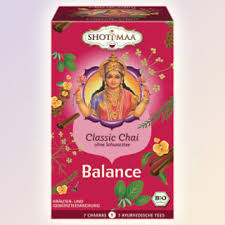 In a more holistic approach, the Shoti Maa teas by Dutch company La Alternativa, blends of herbs and spices, aim to restore internal peace. As for the hibiscus and elderflower green tea by Maison Meneau, it is not only thirst quenching but also offers the antioxidant benefits of green tea and the reinvigorating and draining effects of hibiscus.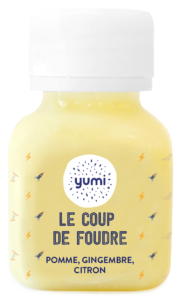 The "Coup de foudre" by Yumi, a Natexpo Award winner, will astound everyone! This ginger shot comes in a small bottle and will surprise the most daring taste adventurers!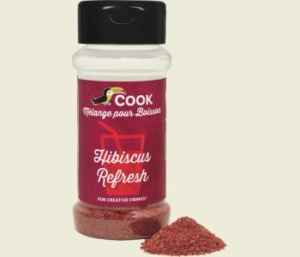 To further expand the collection of new-taste drinks, the Hibiscus Refresh spice mix by Arcadie is a response to demands for creative drinks. Hibiscus and lemon add fruity notes, ginger a bit of spice, with everything toned down by beetroot. The product is organic and fair trade and bears the Biopartenaire label for the ginger trade.