Everyday eco-products
With an offering encompassing all categories of the organic sector, Natexpo offers an all-round vision of current organic issues and has once again this year confirmed its role as a major meeting place for the organic sector. As a trendsetter and growth accelerator, the show enabled 7,965 organic professionals to meet up and discover the latest organic trends.
For this 2020 edition, Natexpo welcomed nearly 200 newcomers, start-ups who chose to exhibit at the event for the first time this year.
These new exhibitors showcased a new and fast-expanding sector: everyday eco-products and eco-services.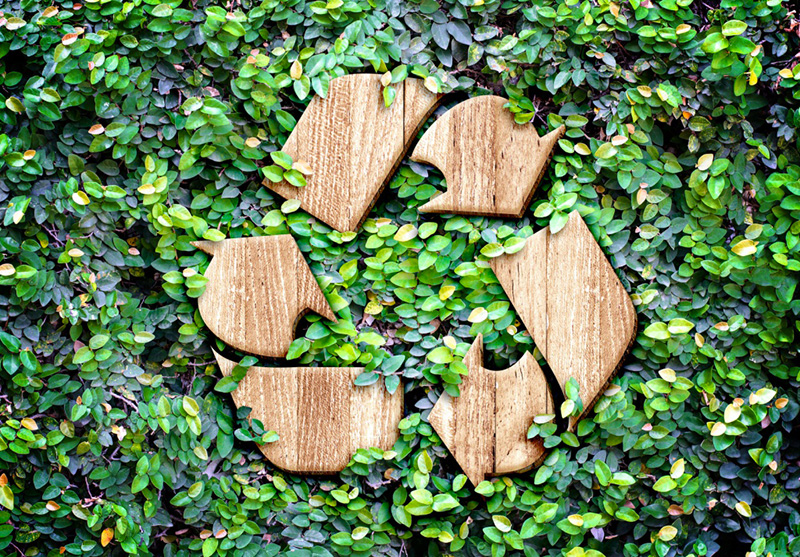 With the use of renewable resources and recyclable materials, the great trend of minimalism, DIY and zero waste can be found in the everyday lives of many households. To avoid breaking this virtuous circle in their everyday life, they now have high expectations of the brands they trust.
Over the last 3 years, purchasing habits have been changing, particularly for 68% of organic consumers. At the top of the list of purchasing levers are waste avoidance, the fight against global warming and the desire for environmentally friendly products… [1]
This year, the Lab welcomed a lot of start-ups focusing on the circular economy, zero waste and the fight against wastage. In view of this success, Natexpo is going one step further for its next edition and in 2021 will launch a new sector dedicated to everyday eco-services and eco-products.
[1] Sources: Spirit Inside study for the Agence Bio – 2020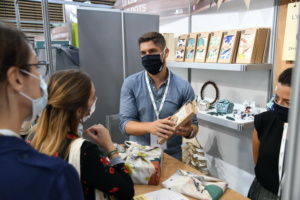 What if you could throw your yoghurt pot into your compost bin? This is the challenge that Carbiolice has set itself with its biodegradable, compostable and environment-friendly plant-based plastic solutions.
LittlePots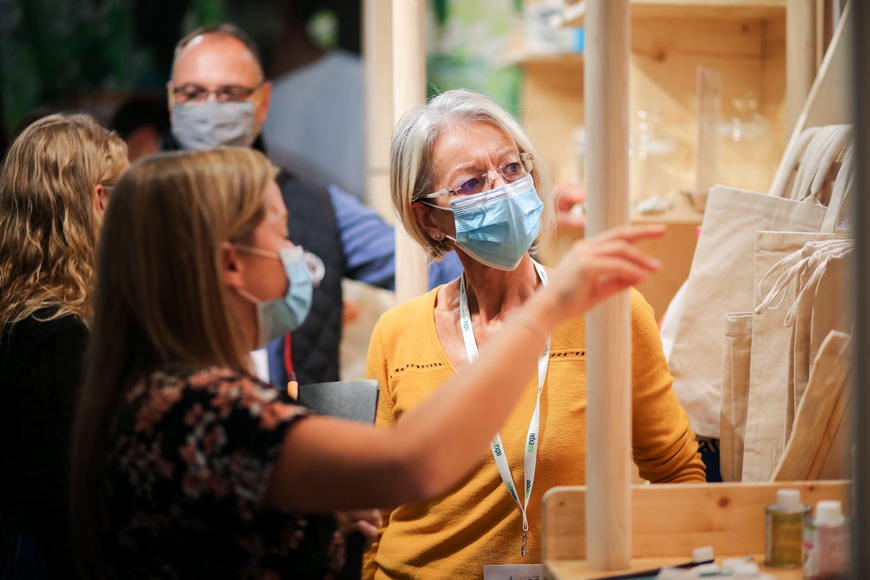 believes in a new zero-waste world and aims to make the practice more widespread: glass jars, pots, bottles and other accessories that are reusable for life. Alterosac reinvents packaging with linen and cotton textile alternatives made in France. Blanchet creates all-wood packaging solutions. Uzaje also focuses on reuse, working with professionals to recover and clean containers before they are reintroduced into the circuit.
Paké offers us the chance to revolutionise our gifts by adorning them with reusable, beautifully tied and infinitely reusable wrapping sheets. Cap Bambou does away with plastic and offers a range of bio-sourced and eco-designed products made from bamboo: cotton buds, toothbrushes, straws, cutlery, etc.
Healthy, ecological and comfortable, Bertyne period panties revolutionise the everyday lives of their wearers. Blooming follows the trend and offers ranges adapted to all styles. Stay warm with the knitwear from Maison Bonnefoy, all-French manufacture of fashion accessories and washable masks.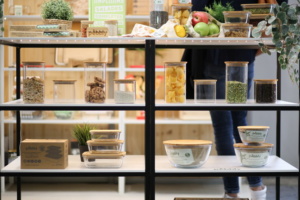 Combining design, convenience and innovation LivWise and ALRCooperation offer ranges of kitchen utensils and home accessories to accompany new consumption patterns. Aesthetics and modernity are also found in the ecological and sustainable objects of the young French brand Pebbly. Ideco Paris Agency also focuses on high-quality decorative and ethical accessories.
Popotte Duck has reinvented everyday cooking to help consumers create recipes from ingredients and leftovers in the cupboard, and to save time while shopping.
A step beyond recycling, upcycling aims to transform waste into new products. Cocomiette has signed onto this movement by reusing breadcrumbs made from unsold bread to create craft beers! On the same principle, Ramen tes Drêches are manufacturers of noodles, but not just any old noodles: they valorise spent grain – the byproduct of brewing – to make ultra-nutritious noodles with a toasted taste.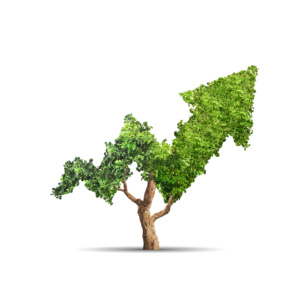 Giving meaning to your actions through your savings is the Miimosa concept, which identifies eco-projects and offers consumers the opportunity to be part of them via an interest-bearing loan or a reward-linked donation, to invest their money in projects with a positive impact. In the same vein, the B Corp movement conveys strong values of change for the collective interest. In particular, it aims to certify projects that make positive contributions to society in five impact areas: Governance, Employees, Community, Environment and Customers. Sharing these values, Oé wines are organic from the grape to the natural cork and display this B Corp certification.
1% For The Planet facilitates charitable giving by allowing companies to donate 1% of their turnover to environmental protection not-for-profits. Care for and protection of the planet also mean sustainable and reliable products. Ethikis' Longtime label is awarded to manufacturers who are committed to designing sustainable products and gives consumers information on their longevity, robustness and repairability.
Discover the full list of the first-time 2020 exhibitors
[1] Sources : Etude Spirit Inside pour l'Agence Bio – 2020