While consumers are keen on buying organic products, nowadays they also expect companies to go a step further and make serious commitments in terms of social responsibility. In response to these expectations which have intensified throughout the Covid crisis, Natexpo has invented a new space purely dedicated to "Eco- Products" and "Eco-Services", which will be inaugurated at its Paris edition on the 24, 25 and 26 October 2021.
In view of the current and emerging trends in zero waste, upcycling, local purchasing, decarbonisation, seasonal food, fair remuneration of all links in the chain, etc., companies face multiple issues, whatever sector they may be in: food, cosmetics, hygiene, cleaning products, textiles, etc.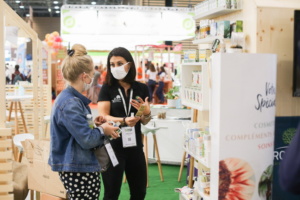 This new sector therefore brings together in a single place an offering of products and services which was already on display in Natexpo's different sectors. In addition to the Eco-Products/ Eco-Services sector, The Lab, founded in 2018, hosts a growing number of inventive start-ups who innovate in this field.
Natexpo thus represents an excellent opportunity to discover the responsible solutions developed by companies in the organic sector: clear standout features to rise above the competition. From production to retail, all the links in the chain have a role to play to provide consumers with the guarantees that they expect.
With seven months to go before the show opens, this new sector and The Lab have already recorded a lot of registrations, with participants including the label "1% for the Planet", which allows companies to donate 1% of their turnover to environmental charities. This success reflects the dynamism of the organic sector in the area of sustainable development, an integral part of its DNA.
Download the full press release