There is a growing awareness of the accumulation of waste and the creation of a sixth continent. Zero waste, loose goods dispensing and packaging-free products are proving increasingly popular with customers. And manufacturers are displaying innovation in this area to follow the trend. Packaging is recycled and compostable, bioplastics are making a visible impact and zero-waste packs are a huge success.
In this perspective of zero waste, reusable containers are gaining a growing following, and purchasing goods in loose format has become possible in all sectors: groceries, personal hygiene and cleaning products, and even pet food. The biggest retailers are extending their offerings thanks to technical innovations enabling them to distribute these products to consumers.
In the bathroom, cosmetics now come in solid form and people choose packaging-free options. Ideal for travelling light, water-free formulas also offer the guarantee of being free of preservatives, which is good for both skin and planet!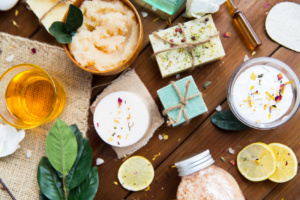 Naturality, loose goods, zero waste: Natexpo 2020 unveils the latest trends on the organic cosmetics market
No more plastic bottles with the jojoba oil solid make-up remover by Comme Avant. The same trend is in evidence at Lamazuna and its hair conditioner bar. More surprising is Nomadsens who has staked everything on solid and non-photo-sensitising perfume with En Corps Sage.
Waste reduction is the concern of Endro, which sells its frosted mint natural toothpaste in a recyclable and deposit-return glass jar. Simply use it with the wooden toothbrush La Maline, with spare heads, by Althode-J'aime Mes Dents, and you will quickly become a zero-waste specialist.
In the food section, Destination stands out with its Ethiopia eco-responsible coffee capsules, which are Nespresso-compatible and made from biodegradable and compostable wood fibre. JusteBio also offers an entirely composable bag with its salt and pepper nut mix.
To help retailers develop their loose goods dispensing solutions, Qualivrac offers them Vr'Acteur, an innovative, low-tech and low carbon solution for the dispensing of all liquids in-store. Bulk and Co meanwhile has its Spicoj ystem to sell spices cleanly and tidily while reducing waste.
Discover our thematic trail  "Zero Waste" 
Download our Trend Book #2 : 
For a zero waste circular economy – the packaging, process & product revolution